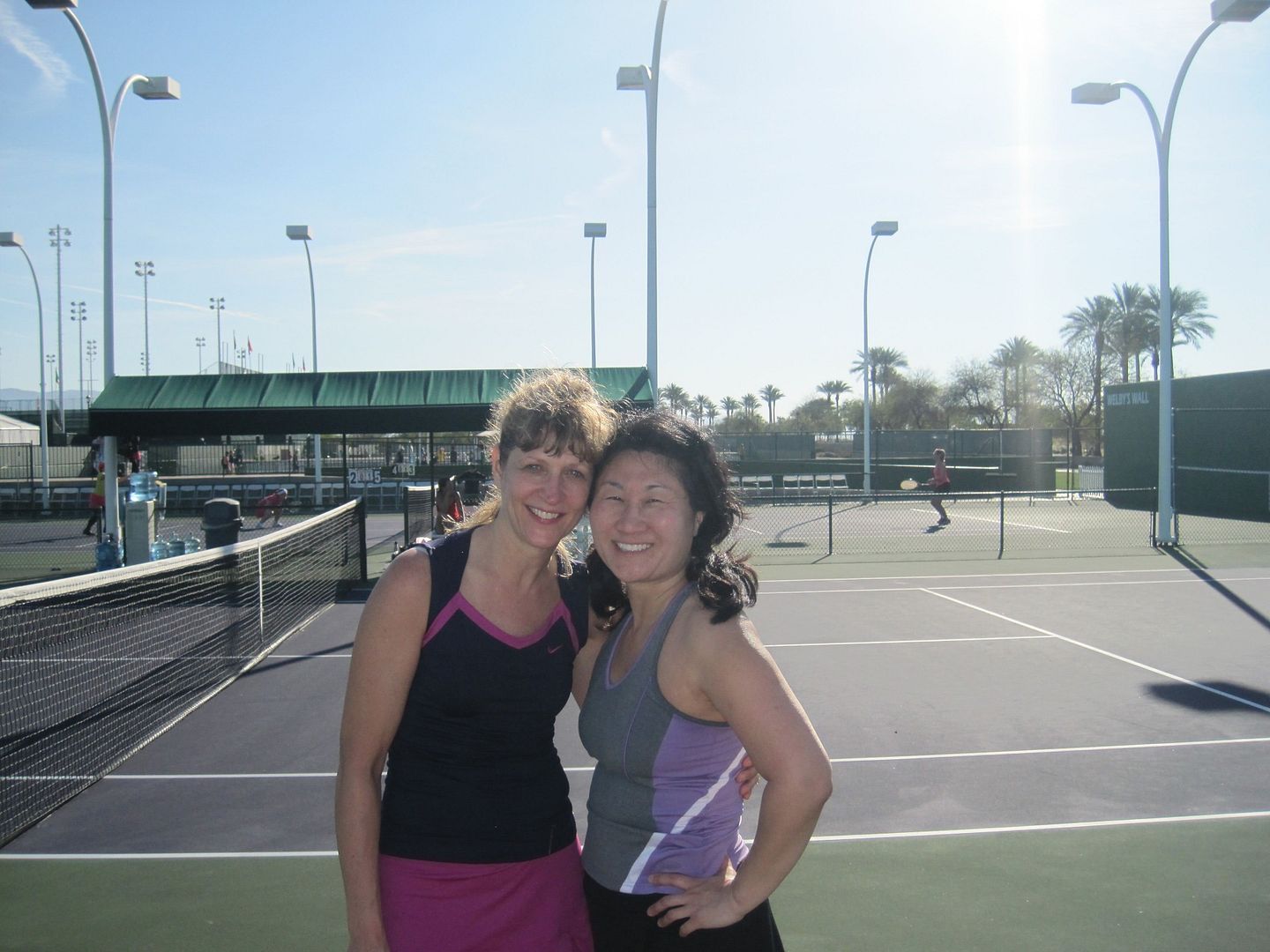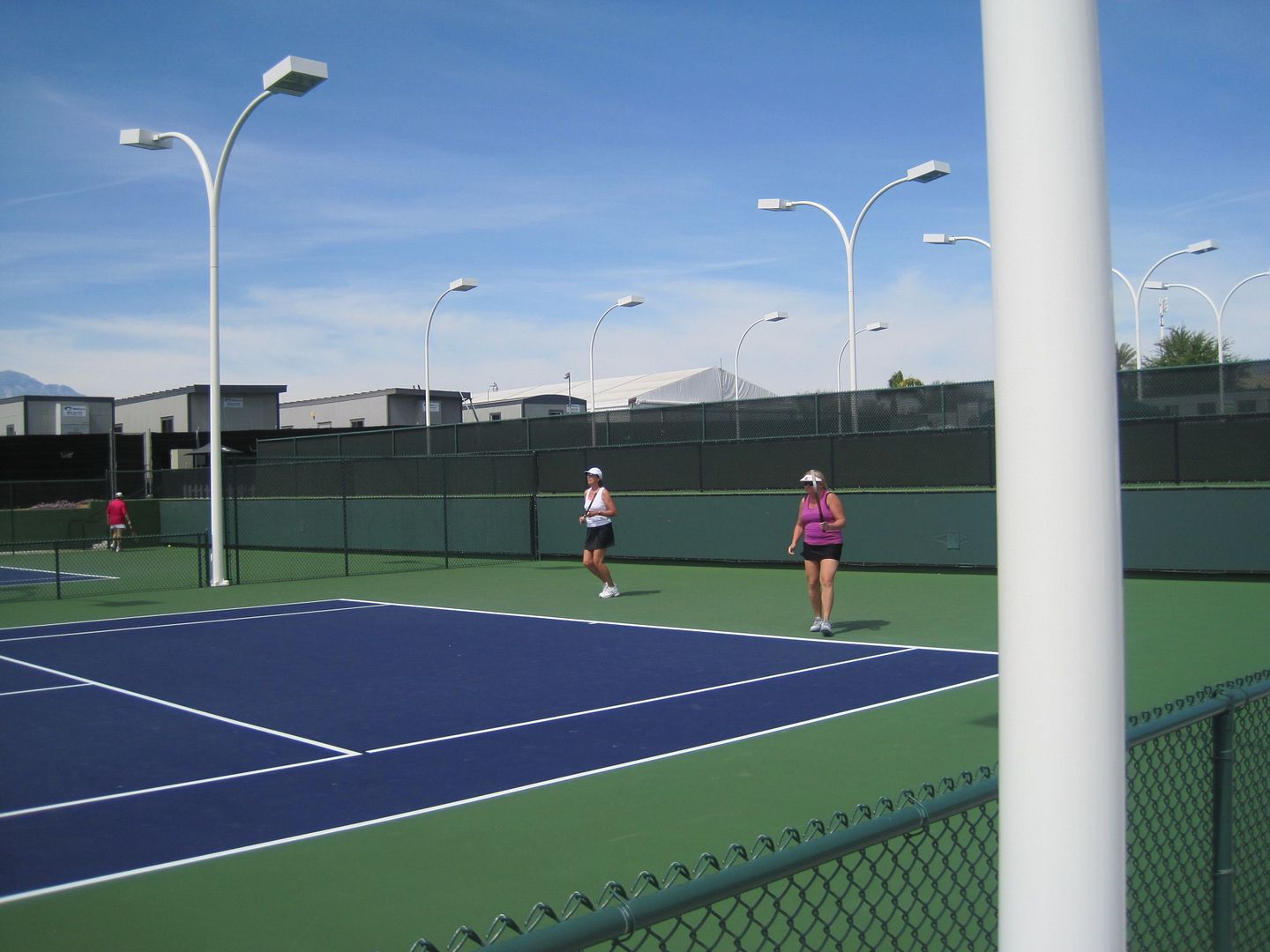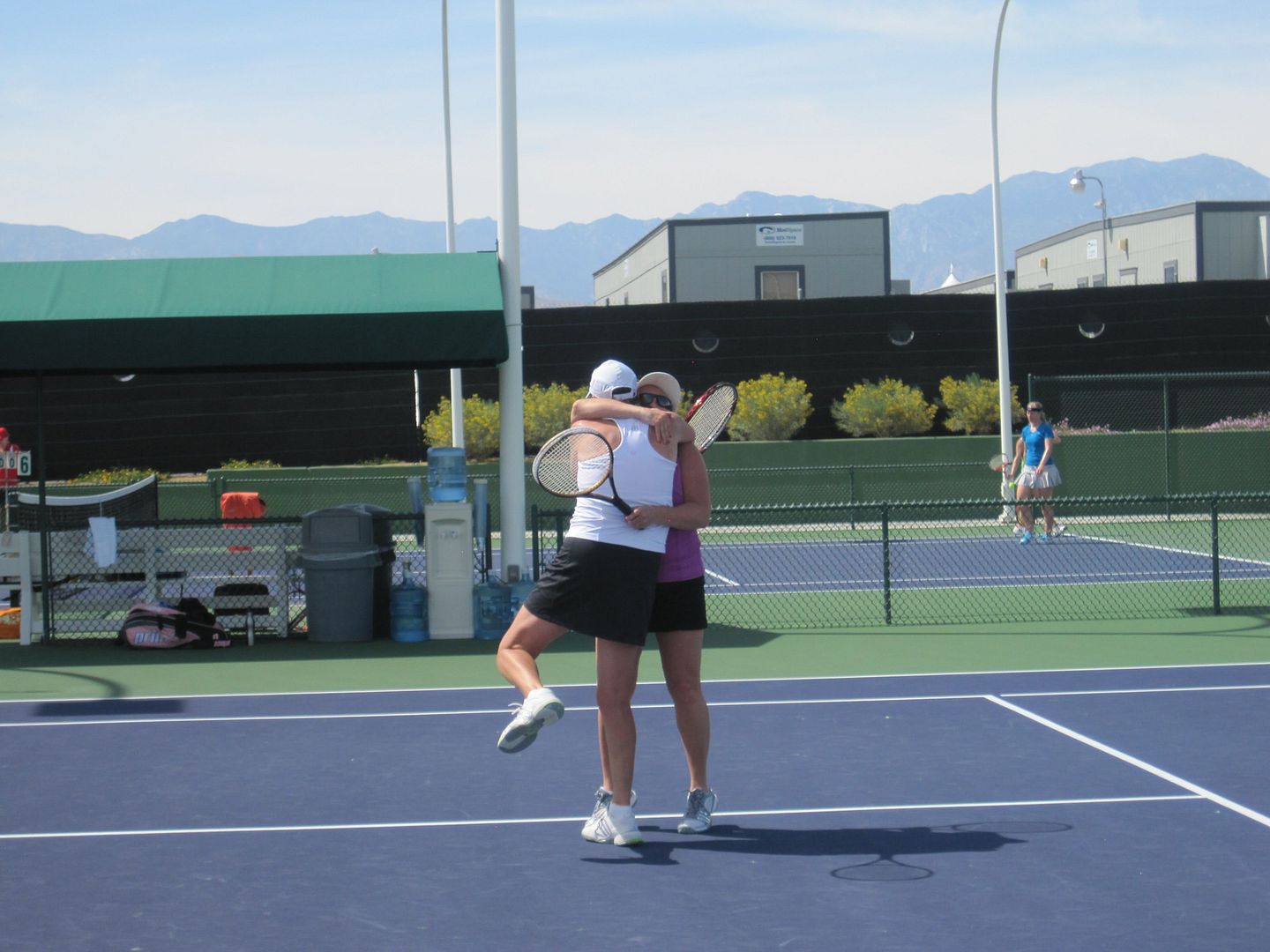 Okay so I did not play on a court with bleacher seating. But our friends and family set up chairs next to us, right outside the fence. It's really amazing, after a point is over, to be able to see Chris give me a thumbs up or hear Tim's distinctive "Noonimoto!" coming from the corner.
Our match was against the Mid-Atlantic team (from Virginia). The warmup was great — maybe because we got six balls to play with.
Once we got started with competitive play, though, the pace of the game felt really slow. We weren't having great rallies but tried to keep strategizing. I was nervous, as were our opponents. They broke my serve at the beginning of the second set and were playing more aggressively, capitalizing on some of our too-short lobs.
Still, we could hear our teammates Yvonne and Gina cheering us on. Before the match, Gina said, "Stay calm." That was the best advice anyone could give. (Does panicking ever help?) I could also hear Yvonne saying "Good try" after I missed a shot. So supportive.
Patrice and I won, 6-4, 6-2.
She almost cried; I did not cry.
She could not believe I did not cry. ("I think you're in shock.") We did spend lots of time hugging and taking pictures.
Then we went back to the hotel to get ready for the next match. Even though we weren't scheduled to play, we suited up in case they'd need us as last-minute subs.
Speaking of subs, my victory lunch was a huge meatball sandwich from Togo's. Oh, it took me back to my college days, when their meatball sub was the best hangover cure ever.
By the way, we've managed to avoid the stomach virus that has caused some of the pros to drop out of the tournament. Thanks, Rick, for the good advice — "Don't drink the water" — and for offering to be our team physician. Actually I could've used some help with the heat rash I've developed. If only you or Shappy were here. (During a heat wave last summer, I got a rash and tried to have them diagnose it at the Silver Spur. Doesn't that sound like the setup for a joke? "A gastroenterologist and an urgent care doctor walk into a bar....")
Anyway, Patrice and I went back to the courts to watch our teammates take on the Northern team (from Minnesota... um, how exactly do these sections work?).
Yvonne and Gina had to wait for a court even though they were scheduled for noon. They volleyed. They lobbed. They stayed calm. And won it 6-4, 6-1, against a really strong team!
Confession: I did get a little choked up when I realized they were going to win it — practicing together these last few days, seeing them play so well, and then witnessing their success — I was so glad to be there!