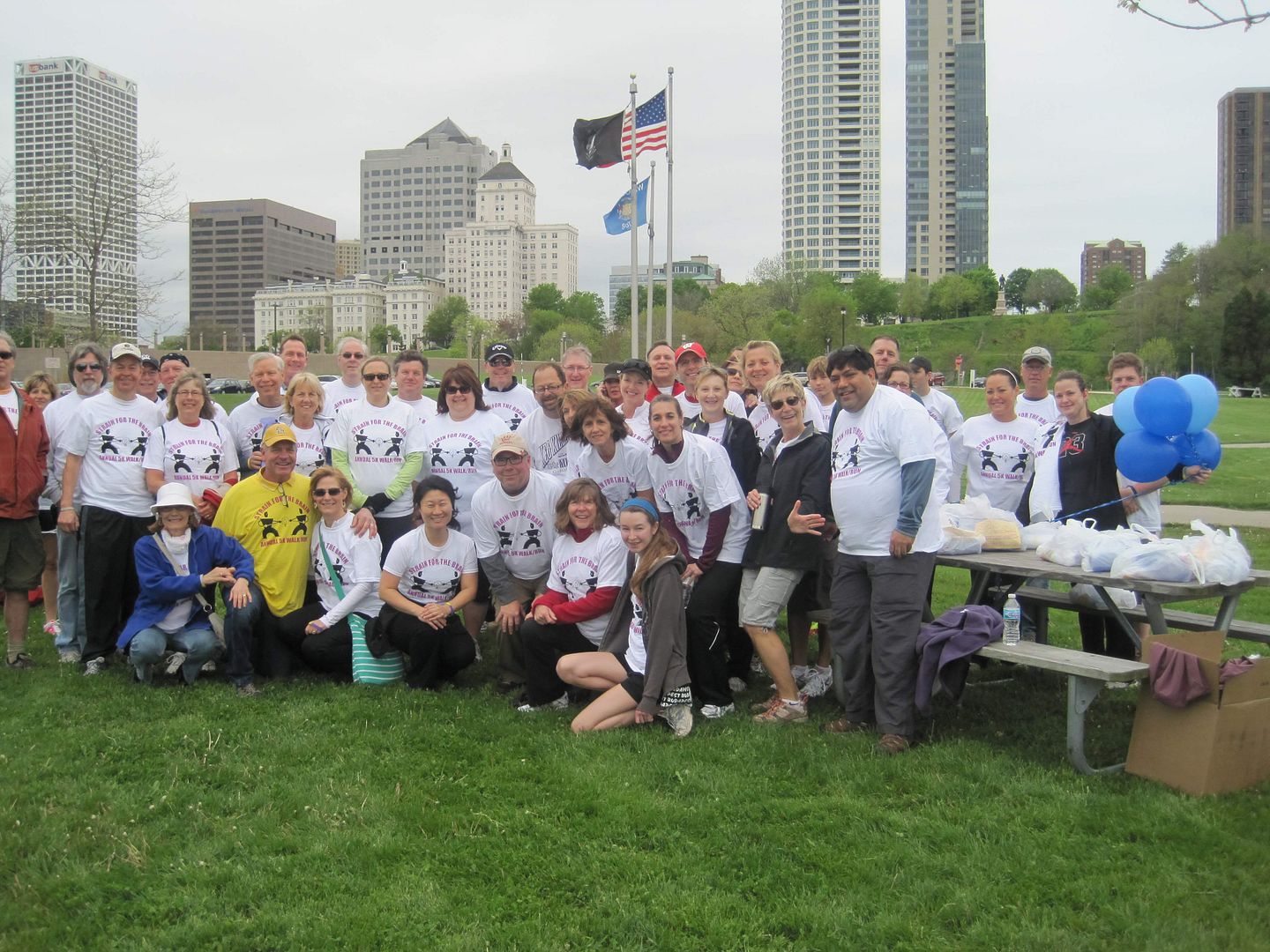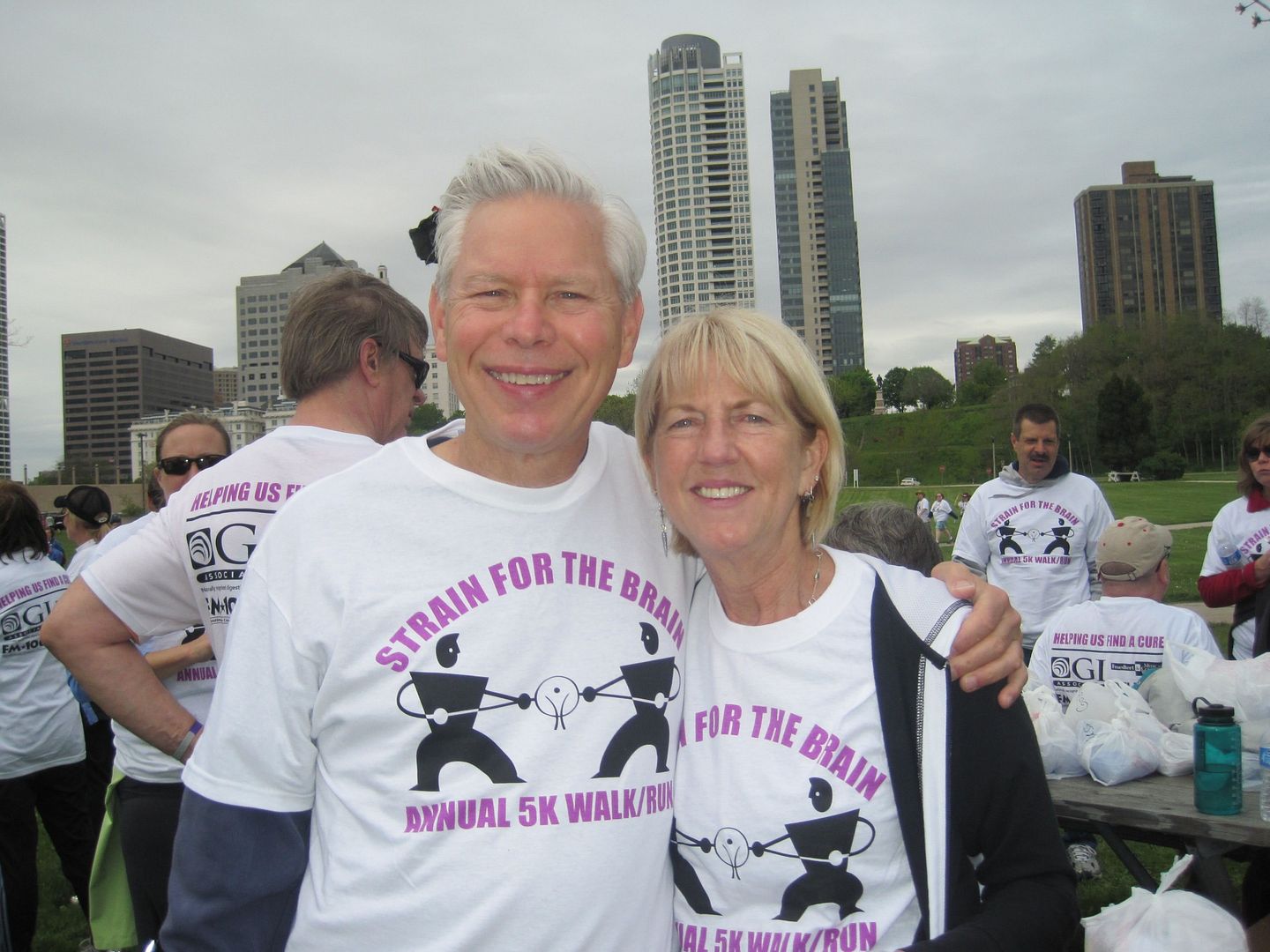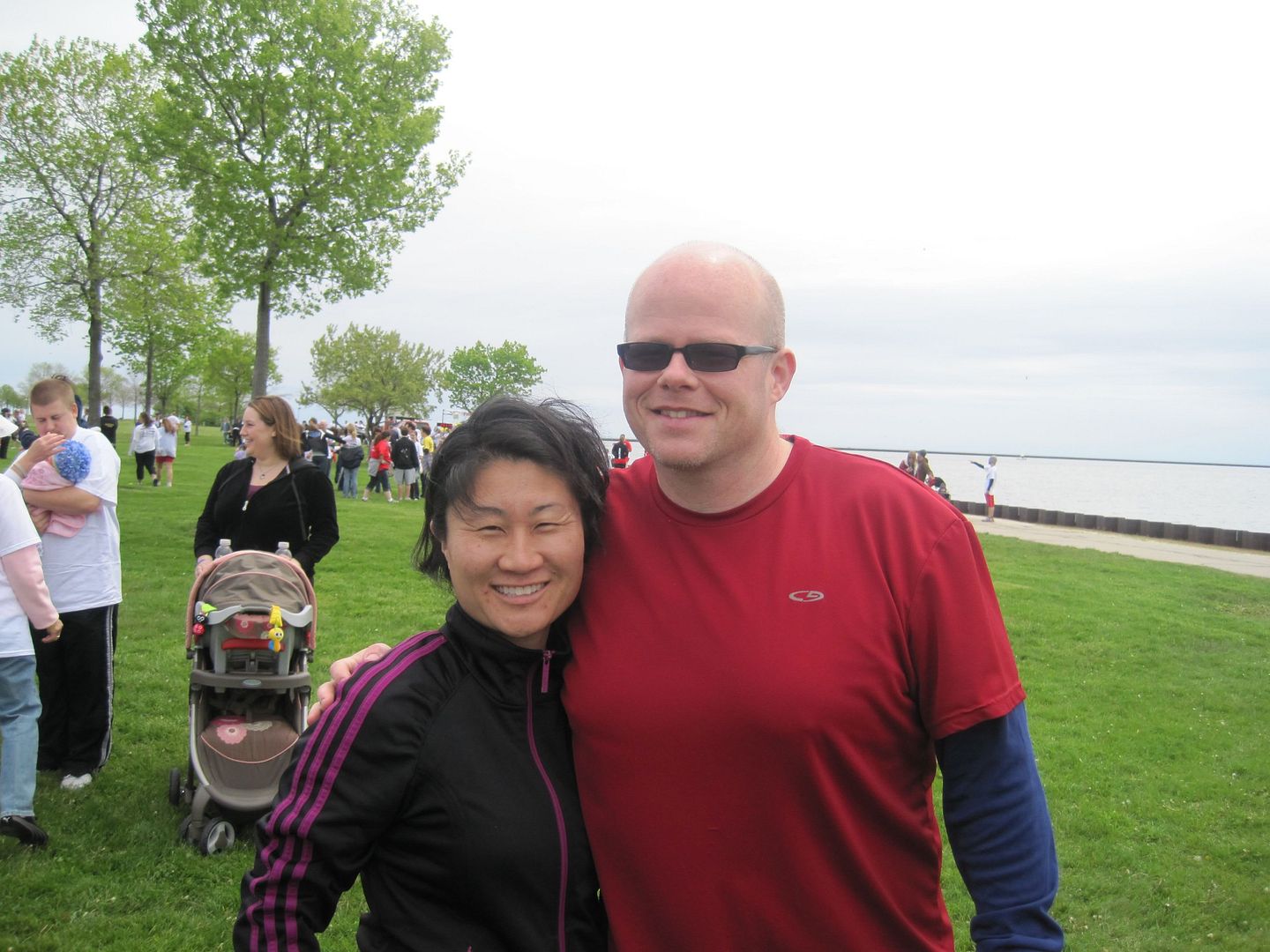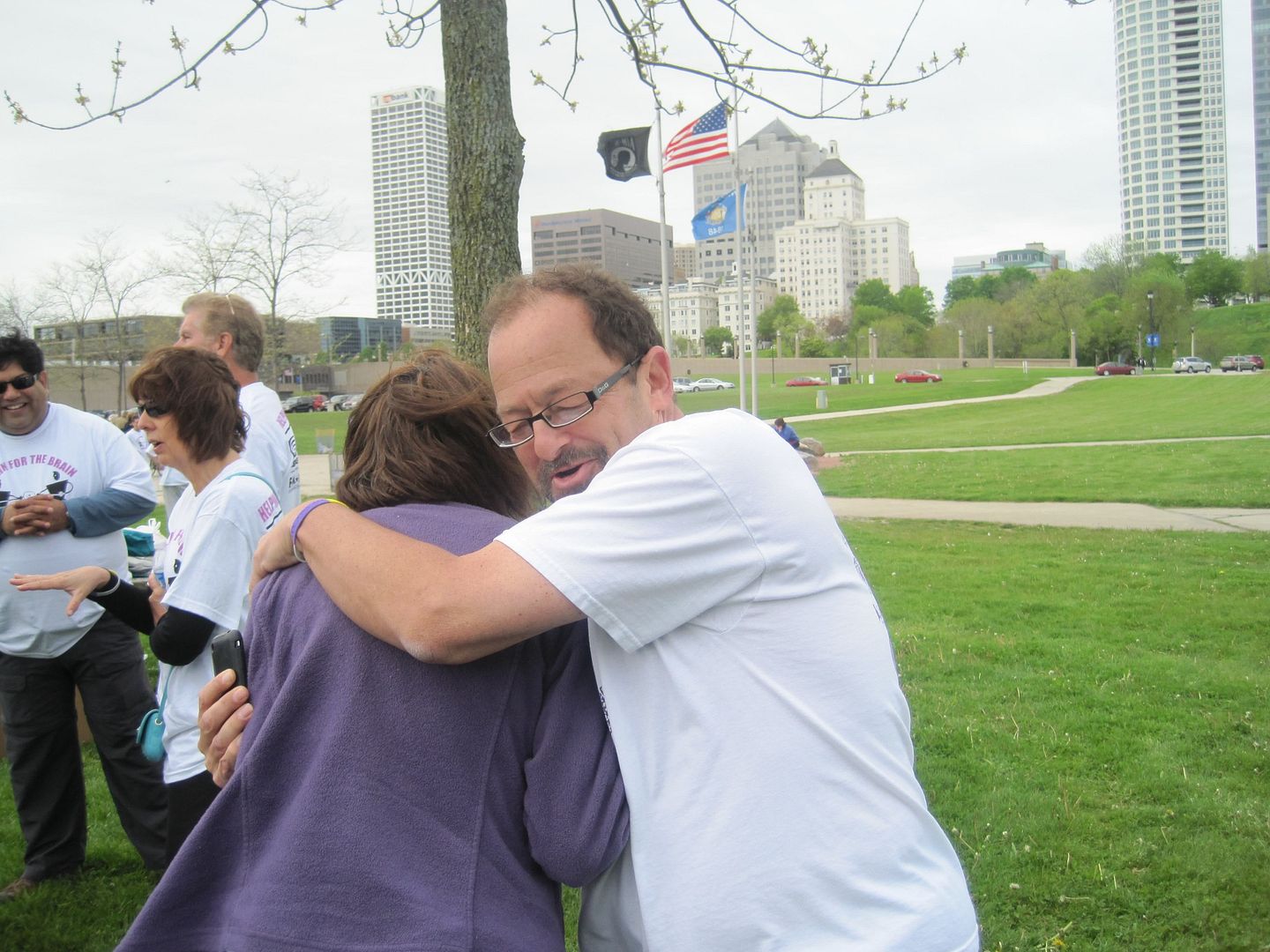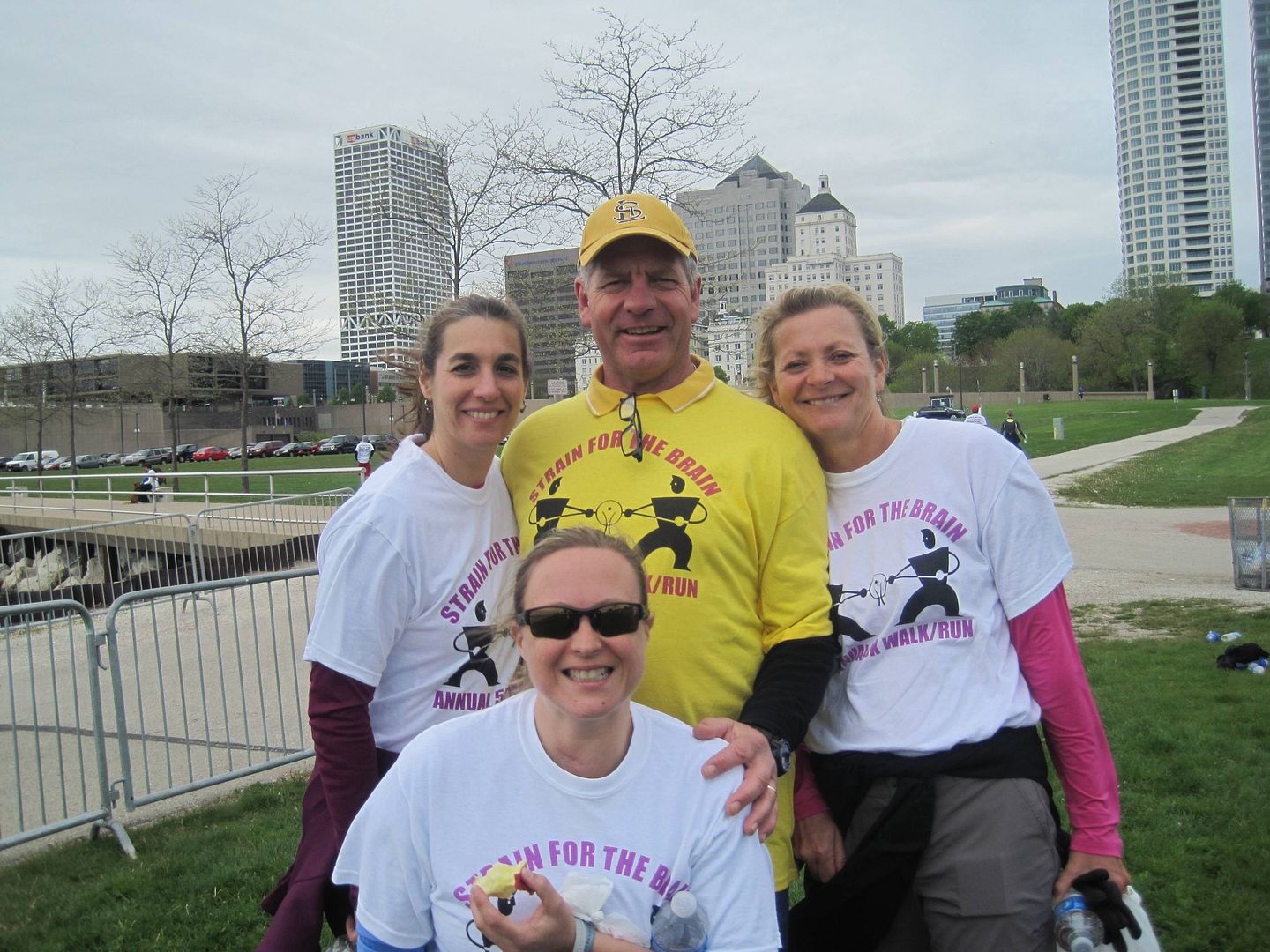 The cloudy weather couldn't dampen our spirits at the
Strain for the Brain
Run/Walk.
Battiola's Brain Busters was 88 people strong, with lots of Dan and Mary's family and friends. Mary sent out plenty of encouraging pre-event emails that got us pumped.
Our tennis group hasn't celebrated any
milestone birthdays
yet this year, so aside from the good cause (raising money for brain tumor research), it was also a nice chance for the gang to all be together again.
When I Googled "walk a 5k," I found a nine-week training program. Unfortunately I did not train for nine weeks. Good thing Patrice reassured me that it would pretty much be strolling and then going to lunch.
Pre-race, I hung out with Michelle, who signed up last minute as part of our team — thanks, Michelle! We chatted and listened to the national anthem. (Sidebar: We've heard many renditions of the national anthem in our Bucks games together. This was a really great version.)
The runners got to go first, so we cheered on Doug and Beth. I didn't see my friend Dave, who finished the run in 26-something minutes. Very impressive!
Then it was time to walk. Michelle went to walk with her friend Mary (not to be confused with Mary C. or Mary A.).
The first half hour was great. Then the 3.1 miles started to feel a bit long. My shins were getting splinty but luckily Mary A., Katie, Billy, and I chatted our way through the path at Veteran's Park. The water stops and high fives from the event volunteers added to the team spirit, as did Dan and Mary doubling back to walk us in.
After a few photos, it was time for more lifting of the spirits at O' Donaghue's. Over sandwiches, reuben rolls, and mozzarella sticks, Team Triple B mixed and mingled. Jess told us about some of his new tennis friends in Michigan. Doug held forth on the subject of buffalo wings. I even had a chance to meet John, Dan's college roommate in 1978. We talked about how Dan always makes everyone feel welcome and happy.
So Dan, cheers to you. Thanks for getting us all together and sharing your awesome company at the after-party. We'd all do 3.1 miles for you again. Anytime.