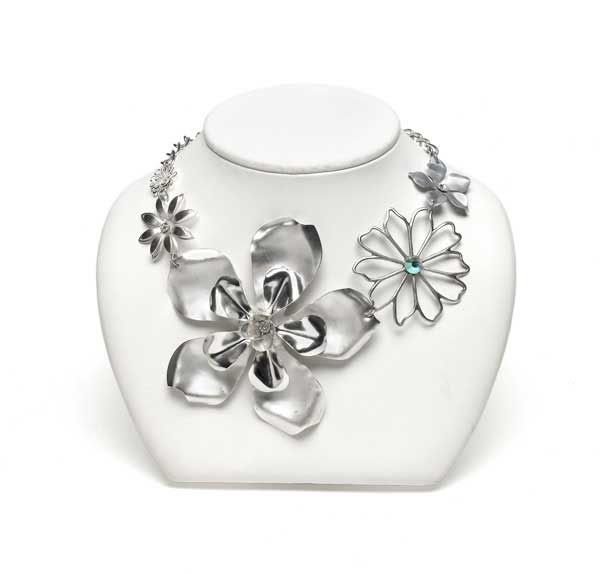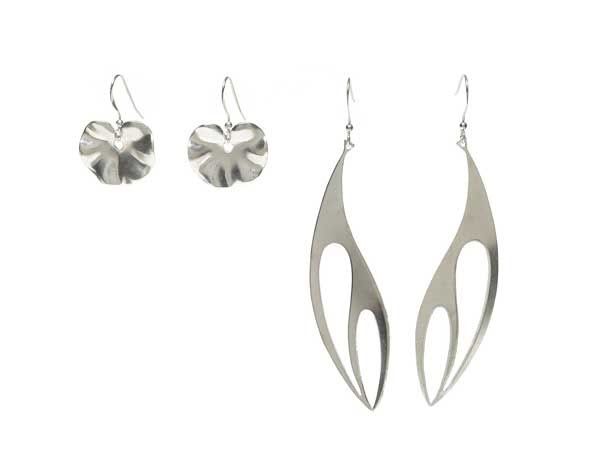 After I finished my ornament project for the November issue of
BeadStyle
, I had a few metal flowers left — perfect for whipping up a more casual silver version of the
September cover necklace
.
The experience was more challenging than I expected.
The biggest flower, a
4-inch magnolia
, had only only one hole (in the center), so I punched holes in two petals. Then I noticed that, in the gold version, I had connected the biggest flower in three places.
It wouldn't be a big deal to punch another hole in the silver flower — except that once you do it, it's
there
. No going back. I'm hesitant to connect the coreopsis in two fixed places. At least with the gold version, the rims of the center flower have some give with the jump rings.
After much rearranging (opening and closing of jump rings), I finally settled on this design.
At least the earrings were easy.
To highlight the sleek, organic shape of the plated
lily pads
, I just attached them to earring wires. Super simple, and I'll probably wear them all the time!
Same with the
cut paisley drops
. I'm a fan of long, lean shapes. The drops, which are almost 3 inches long, look great without any beads or chain attached. I won't be wearing these with the necklace (too much bling), but I'm always happy to forgo large necklaces in favor of statement-y earrings.
One lesson learned: It's best to order as soon as I spot something I like.
The Beadin' Path
offers lots of vintage stuff, but I've occasionally made the mistake of overthinking a purchase while the coveted item got snapped up by someone more decisive.
PS:
Jim Forbes
shot these photos. I love the crisp background! Check out his portfolio — my favorite series is "Three Windows."