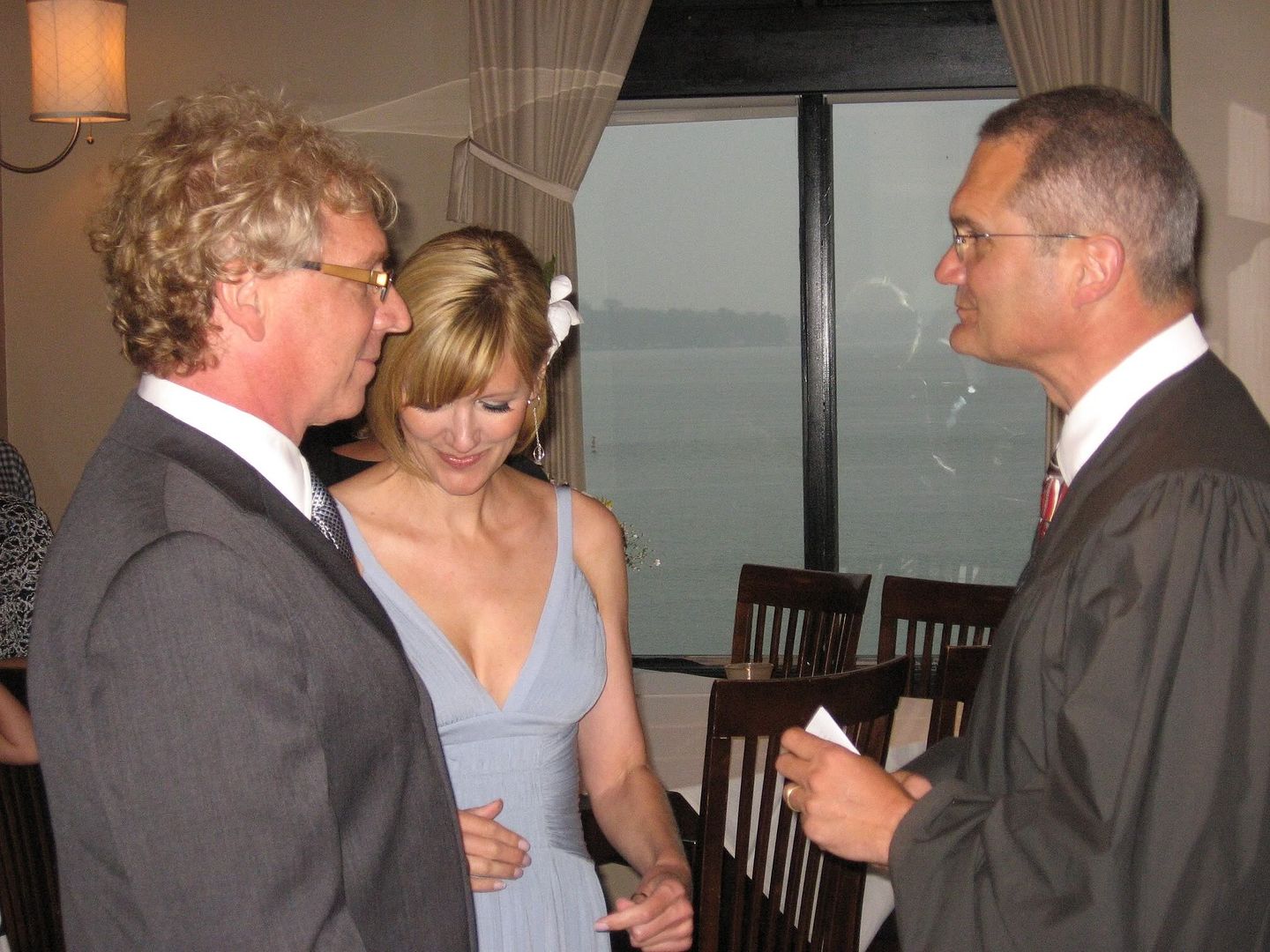 Friday night, I went to Stacy and Bill's wedding at Piano Blu. It was a blast: I laughed, I cried, and I stayed 'til the end.
Stacy and Bill both looked radiant — I don't think he'd mind if I used that word — and Mary, Jenn, and Katie made the evening fun.
Mary took all of these photos, plus a bunch more. As a photographer, she is unshy and very fast — there are shots of Stacy getting ready, people arriving, the ceremony, the families, the food, the dancing. Unfortunately, her enthusiasm precluded her from appearing in many photos.
While Mary flitted between shooting photos and dancing, Jenn and Katie and I ate shrimp and cheese and pita toasts and drank champagne. It was good times — effortlessly, just like
last weekend
. Mary said I was "lovely and amusing."
Full and happy and lovely and amusing, I should have gone home then — right after the last photo was snapped.
Instead, we went to the Pickled Egg, a bar a couple of blocks away. Katie had made it sound sort of fun, so I agreed to go for five minutes. Though we were all over-dressed for The Egg, Jenn saw the bright side, suggesting that we would give the whole bar whiplash with our collective hotness. (She might not have used the words "collective hotness," but you know what I mean.)
More than five minutes later, one of Bill's friends thought it would be hilarious to hide pickled eggs in our purses. Mary and I disabused him of this notion. And yet, when I finally left, I found another egg.
Maybe "found" is not the right word. It was more that I jabbed it when reaching for my cell phone. The lining of my purse reeked (vinegar, eww!). And I got egg under my nails, on my car seat, and caked into my cell phone and makeup. I had no idea a cooked egg could break into so many small parts. It was a stinky end to an otherwise nice evening.
At least I did not end up with egg on my face, har har!