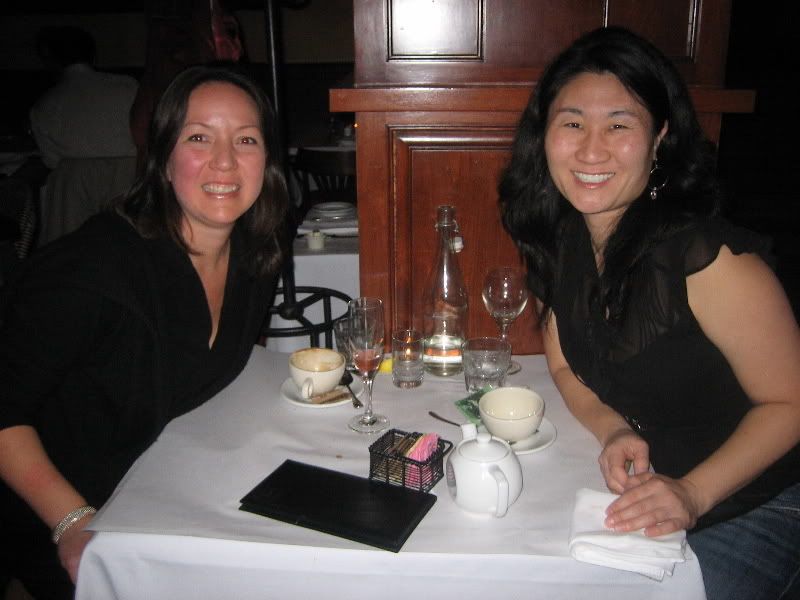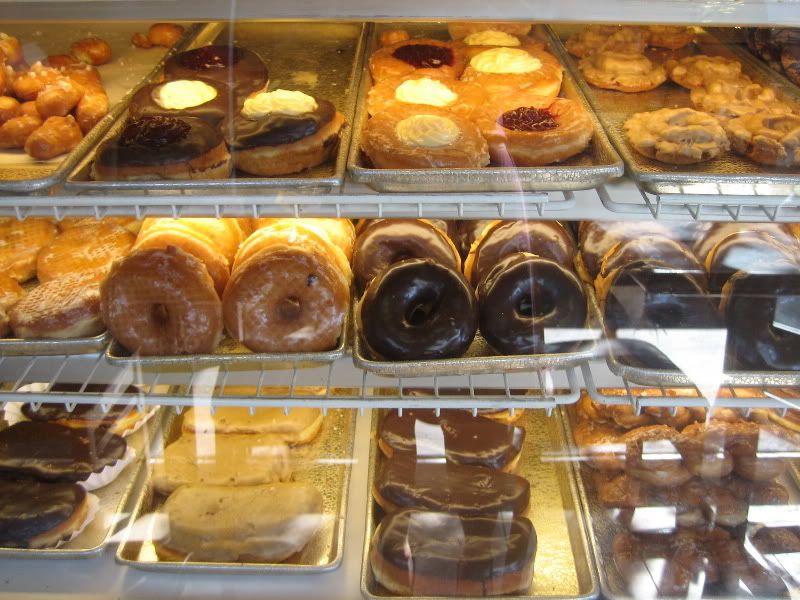 Yukie and I spent three days in northern California. Pretty much all we did was eat.
On Thursday, I met up with Liz at
Café de la Presse
in San Francisco. She always
picks a good restaurant
. We shared a goat cheese tarte, two baskets of bread, roast chicken, garlic mashed potatoes (with whole cloves of garlic — love that), wilted spinach, beef bourguignon, and macaroni gratin. (I thought it would seem like less food if it was all listed together. I guess not.) We had a lot of catching up to do.
On Friday, Yukie and I spent time with our aunt Mishi and uncle Min (here they are in front of their house). We met up with our aunt Dorothy and cousin Gayle at
Kirala
in Berkeley. This time, only one dish for me: tempura udon — it was nice to practice moderation.
We went back to Min and Mishi's house to chat and eat cupcakes that Gayle baked in her solar oven. I passed on the cupcakes (I'm trying to forego dessert at lunchtime), but they looked really lemony and delicious.
I did need a late-afternoon snack, so Yukie and I went to
King Pin Donuts
in Berkeley. Usually they close at 3 a.m., but the guy said he's been closing at 2 a.m. because it's spring break. When I was in college, Ruth and I used to go there many weeknights after hanging out at Manny's. So I picked up a chocolate-frosted old-fashioned (for me) and a regular old-fashioned and a jelly donut (for her).
For dinner, Yukie and I ate at
Chevys
. Now, to me, Chevys is like Red Lobster: a fabulous chain restaurant that people secretly love. Or not so secretly: Yukie wondered where all the people came from. Anyway, I figure that, in a chicken salad, the lettuce and avocado offset the bacon and bleu cheese.
Saturday morning, Ruth and I had brunch at
Bill's
in San Jose. After an omelette and hash browns, I made a purchase that I hope will be life-changing: a pair of
MBTs
. Ruth tried on a pair, too, and said they made her legs hurt. I hope that means they were working. Either way, I plan on lots of long walks with Papa when I get back. But enough about healthy habits.