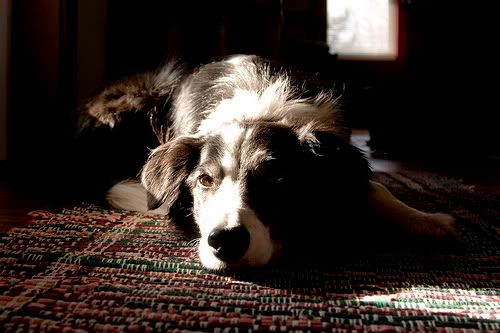 This is Scout.
He is a beautiful border collie who belongs to my co-worker, Andy. He was the first dog Andy and his wife saw on a day-long trip to shelters in southern Minnesota. They met many dogs but couldn't stop thinking about him.
Andy shot these photos in the fall and winter, but I didn't want to wait to post them. I've become a sucker for border collies in general (not just Pops).
Scout is way more obedient than Pops. But like her, if he doesn't get enough exercise, he gets into stuff: shredding toilet paper and leaving it all over the floor, chewing on the cat, etc.
What?
"She's allowed on furniture and he's not, so if she wants to get away, she can," Andy says. "Usually, though, she'll just bat her paws at him and he'll growl at her and chew. It's pretty funny to watch."
Oh no, Scout. Not the cat!
Scout will chase anything that moves: "Waves crashing on the beach drive him crazy; he'll nip at the waves like he would a sheep's heels. He chases after the embers coming off a fire (that's what he's doing in that second picture), and sometimes catches them. He pounces on moving shadows. It's that herding dog instinct: If it's in motion, he's interested."
And yet it's hard not to be charmed by dog antics. As Andy says, "We clean up after them, buy them stuff, and take lots and lots of pictures."