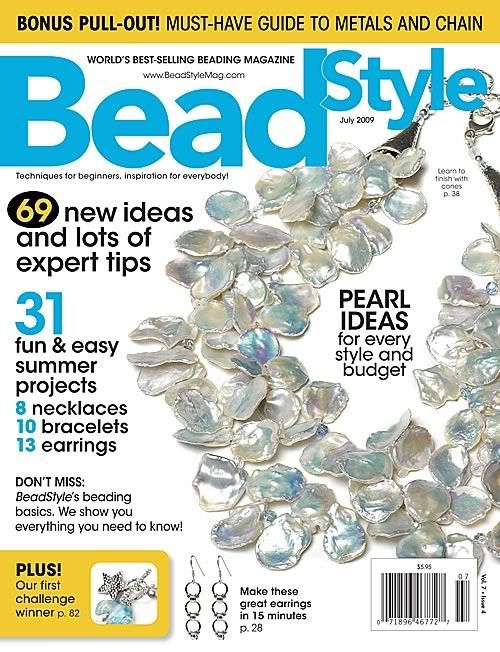 My necklace is on the cover of the July 2009 issue of
BeadStyle
. It's an honor. And pressure, too. Even though stuff beyond my control — like the cover lines, the competition, etc. — has an impact on newsstand sales, I feel like the main image is what sells the magazine.
About the necklace: I bought the pearls at the
JANY show
from
Lucky Gems
. They carry unusual shapes, colors, and sizes (check out their
dancing squares
, for example). I'm all about the supplies — my approach is to start with the best gemstones I can get my hands on. I suppose everyone says that, but if you've ever been with me as I deliberated over a strand of gemstones, eyeing individual beads, you've seen how my mind works. I liked the luminescent pinks and blues in these pearls, which are the size of large cornflakes.
I got some design help from
Jane
, who talked me through my crystal quandaries (bicones or rounds? pinks or blues? matching or complementary?). She also helped me figure out which cones to use and gave me a thumbs-up on the chain I picked for the bracelet. You can find instructions for the projects (as well as for two earring options) in the magazine.