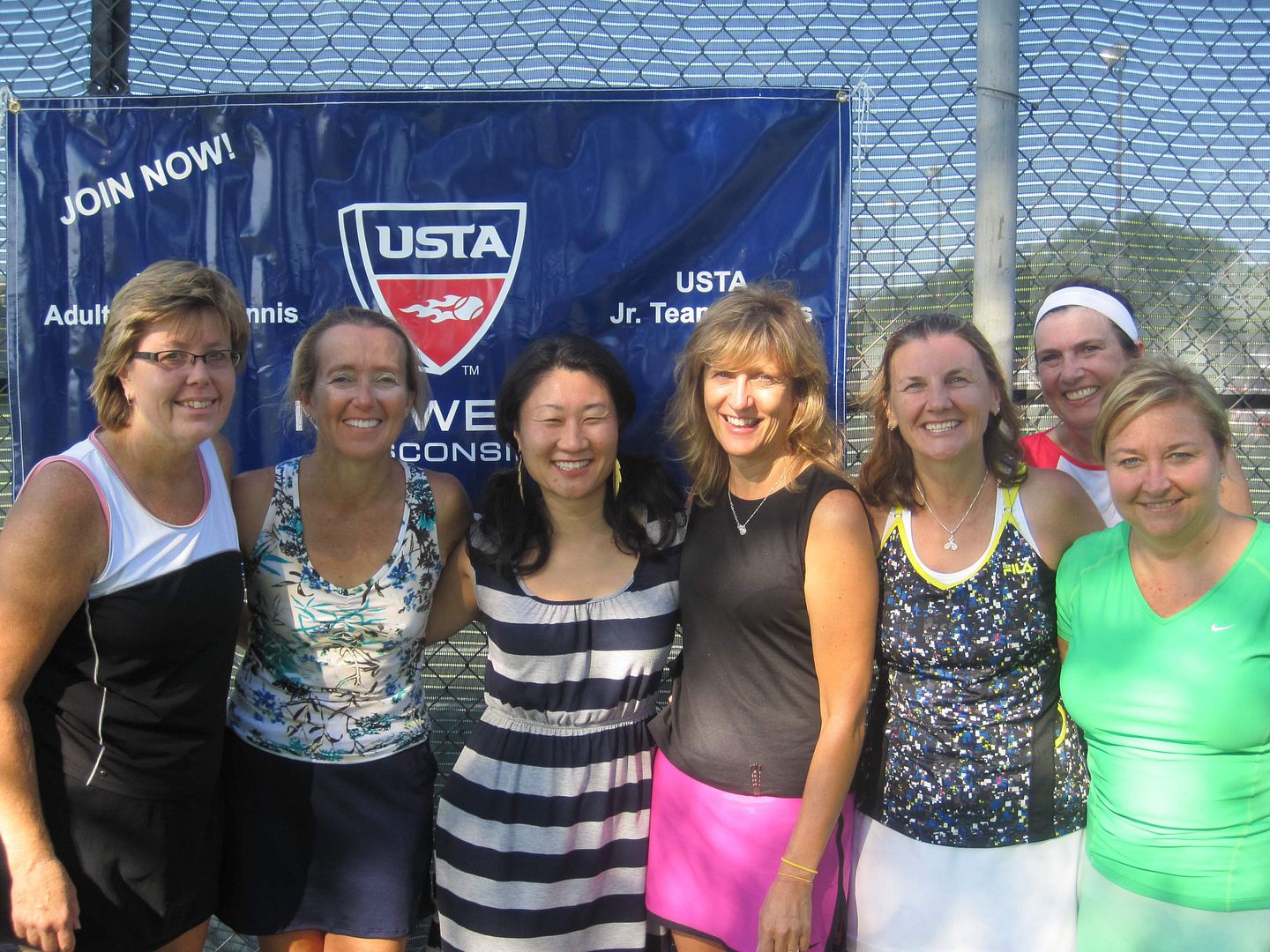 This weekend, Patrice and I had playoffs at Lowell Park for our tri-level team.
On Saturday, Terry and I went to see the team win the first match: Gina and Yvonne won in straight sets after being down 5-4. And Pam and Mary came back from 5-1 to also win in straight sets. I was blown away by how relaxed but aggressive our teams were. Amazing!
It was great to see Jan and Nan and Jody and Patrice, too. They were there for senior and mixed doubles playoffs. Even the entourage is hardcore about tennis — next year I'll remember to bring my own lawn chair.
On Sunday, I arrived in time to see Patrice and James win their match. It was the third one they played in two days, but they did not look tired at all.
Then it was time for Patrice and me to play. Tim was there to cheer us on, and as we walked to the court, he said, "Did you eat Qdoba?"
Gasp. I did not.
I was nervous in the warm-up. But I've gotten used to that feeling. Fortunately I felt better once we started the match. Though we took the first set 6-1, we knew our opponents had more in store for us. Patrice had played — and lost to — one of the women the day before.
I didn't know until after the match, but Patrice told her, "I'm going to kick your butt." Which is very NOT Patrice, by the way. She thinks stuff like that but doesn't say it.
But she doesn't make promises (or threats) lightly. Though the woman hit a lot of winners in one of the second-set games, it was just not enough to overcome Team Noonimoto. (Okay, I will never use that nickname again.)
After winning the second set 6-3, we stood on the court talking. I was in shock. Patrice has been to Nationals (as have many of our 4.0 and 4.5 teammates), but this was my first playoff game.
And everything about it was wonderful: Playing outside on a beautiful September day. Hearing people applaud. Seeing our teammates Mary and Debbie come back to win their match. And now I even have a lucky towel that says 2011 Wisconsin State Champion on it.
After team photos and a gift for Captain Char, Patrice and I sat on the curb talking for a couple of hours. Her sister and brother-in-law drove up and said we looked like teenagers.
Finally it was time to end our fun, victorious day. To celebrate, I got a patty melt, fries, and a raging headache. Dehydration sucks. But that's my only complaint about the whole experience.
Next stop: Sectionals in Homewood, Illinois. Go Muskego High!