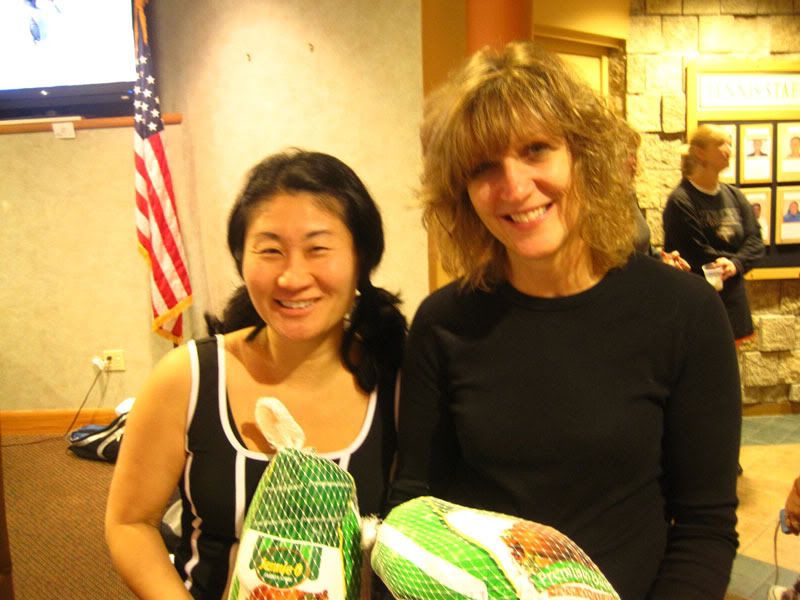 What keeps me playing tennis — aside from the competition and camaraderie — is the element of surprise. You just never know what is going to happen.
By "surprise," I don't mean hitting a quirky little drop shot when your opponent expected a ground stroke.
I am referring to aberrant things. Things that don't make sense.
Patrice and I have played together for two years — more than 20 matches. Which is why it was surprising that we sucked in the first four games of our match in Le Club's Great Turkey Open.
This is not hyperbole. Or humilty. We really sucked. (After the match Nan, one of our opponents, asked, "What was up with those first four games?")
We had trouble hitting the ball. After a shaky warmup, I attributed this to my jitters. It felt like a big deal to play against Nan and Jody, someone whom I've known for years but never played.
Obviously if we could have just stopped doing whatever we were doing, we wouldn't have gotten into a 4-0 deficit.
But somehow, shot by shot, we started to figure it out. At least we started to have rallies rather than ending points with our mistakes.
Surprise! We came back to win the set. And the match.
On Saturday we played a team I remember as The Ham Sandwich Girls. Last year, they won a three-setter, ate ham sandwiches, and came out and beat us in three sets. They then played a third match.
It is intimidating to play people for whom fatigue is not an issue.
But I really wanted to win. And don't ever doubt it, so did Patrice.
I can't really remember the match, other than that it was grueling and I got aced a couple of times. But we did it: 7-5, 7-5.
Then, surprise! It was not the championship match. ("It felt like it," I said.)
We played once more and won in straight sets. And I enjoyed two turkey sandwiches afterward.
I should mention, I was nervous before our second match, too. But Jody said that things were different this year. So thank you, Jody, for the encouraging words. They really helped.