Friday was a whirlwind. I woke up at 4 a.m., flew to Kansas City, got delayed on the SF flight, and waited an hour in the BART line. I finally arrived at my friend Linda's condo south of Market, then had time for a quick nap before coffee with
Steven James
. Maybe you know him: he has lots of jewelry and home decor projects in
BeadStyle
. He also designs gorgeous Christmas ornaments. (My favorite: a metal frame encasing a note that reads, "To have love, you must give yours away.") Steven and I talk only a couple of times a year, but our conversations always come back to the theme of creativity and how to find an outlet for it. Deep stuff. On my next visit, I hope to see him for longer than 40 minutes.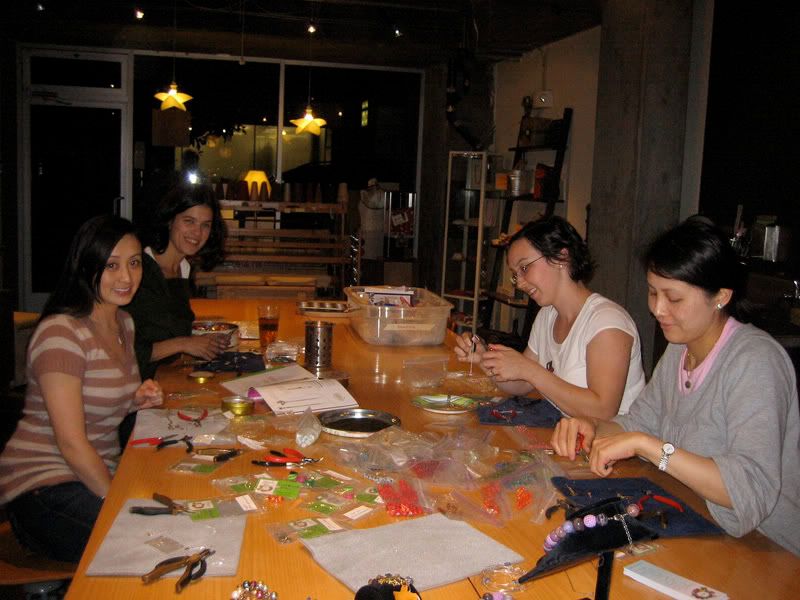 I went to
Craft Gym
for my
Cool Jewels
book signing. Jackie, Leah, and Kay were incredibly welcoming and had a spread of appetizers from
Leland Tea
. It was a quiet night, so we made earrings and noshed on tomato and fresh mozzarella salad, veggie hummus, edamame, and bread with Brie and figs. We chatted about the craft scene in general and their studio in particular. Sewing and knitting are especially popular, but Craft Gym also offers workshops in soap making, graphic tees, and glass etching.
To cap off the world's longest day, Linda and I grabbed Mexican food in the Mission. Now we're heading out to get breakfast and do a little shopping before my signing this afternoon.