On Saturday, I signed copies of
Cool Jewels
at
The Bead Shop
in Palo Alto. Big thanks to Janice, Ally, Denise, Susan, and Jenny, who promoted the event and made it fun. I also loved the cookies and sparkling water; snacks always make a place feel like home.
While I was there, I designed a clustered pearl ring, gold hoop earrings, and drop earrings with diamond-shaped vermeil components. All of these share one technique in common: wrapped loops, which can be challenging for beginners. Janice (the owner) and I have different approaches to how we teach loops, both in how we make the loop and in completing the wraps. At the end of the day, I'm happy if the loops are round and the wraps parallel. But I liked seeing a different way of doing things, especially because she's been making jewelry for 48 years. Yes, almost a half decade.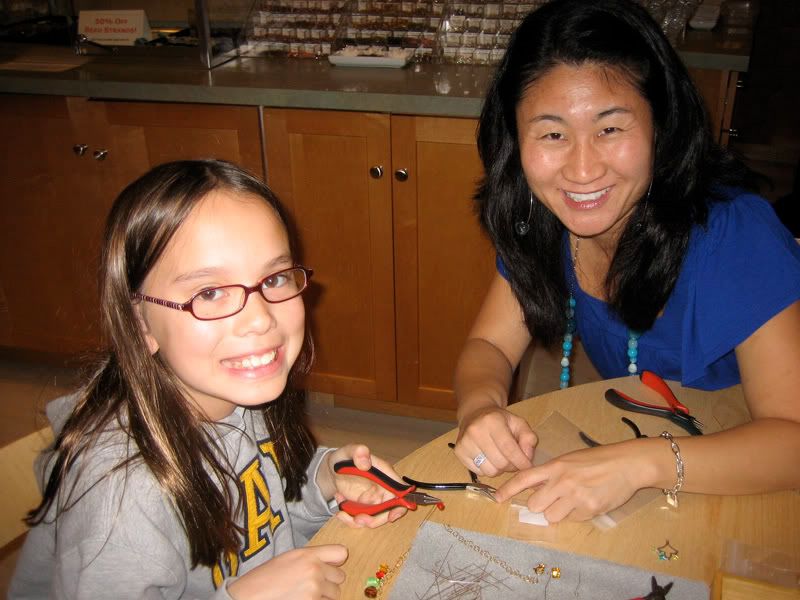 Anyway, I really enjoy working with beginners because they're so focused on learning. In less than an hour, Sandi (one of the customers) made a gemstone-and-crystal ring (instructions in
Cool Jewels
, p. 87). And Emily, who's 10, got an ambitious start on her Bubbly Baubles necklace (p. 36). Let me know if you've found inspiration in the book. I'd be happy to post photos, too.