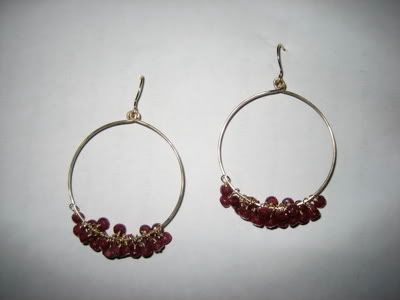 I'm not a huge fan of red. If you've ever been to a Cal football game and heard fans chant "Take off that RED shirt" as they rolled the hapless offender through the crowd, you'd develop an aversion, too.
That said, I do love the way rubies and gold go together. So I made this pair of hammered gold hoop earrings. (The rubies are from
Bead Palace
, by the way.) I strung individual rondelles on 26-gauge head pins and made wrapped loops. I was so proud of my simple idea until I realized that the rubies clustered together rather than fanning out in an orderly fashion. (I like order.) Fifty wrapped loops later, it occurred to me that premade hoops with loops would have been less time-consuming. Or, wiring the rondelles to the perimeter of the hoops also would've been easier. Or, I could have made the gold hoops smaller to lessen my loop-making load. But as Alanis Morissette says, you learn. And I do like the results.