I've been mulling over paint colors and I'm almost ready to commit… I just need to see how the duvet cover looks (according to UPS, it got delivered to my house today). Even though the paint color is a bigger deal, the color of the duvet cover is harder to customize. So, I'll be working around that.
I got some second opinions from Serene, who's a graphic designer for
BeadStyle
and has adorable style herself, and A Guy Who Shall Remain Nameless, a co-worker who'd undoubtedly be mocked for his creative side. His first suggestion wasn't a paint color but a recommendation to get a headboard. Actually, it was to make my own — out of three wooden pieces, painted to match my room — and bolt it to the wall. Great idea, but, unless we're talking about jewelry, I'm more buy-it-yourself than do-it-yourself. Plus, that would mean three more paint decisions in addition to the wall color, and I don't think Jane, Serene, or Nameless has that kind of time.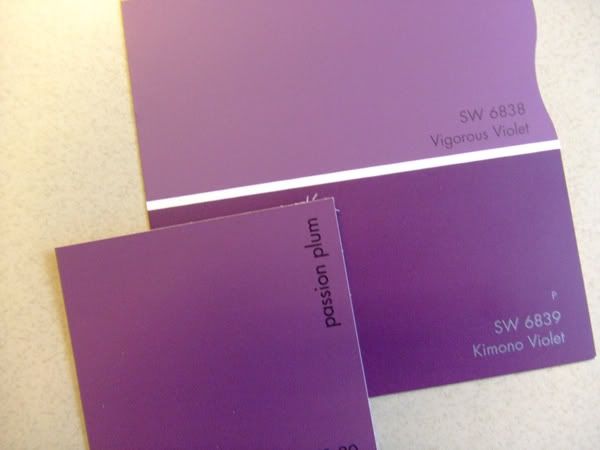 Anyway, Serene and Nameless both picked the same color. I've misplaced the color that Jane liked, but it was more mauve-y than purple. Right now, the frontrunners are similar plummy shades from Benjamin Moore and Sherwin Williams (Passion Plum and Kimono Violet, respectively). I prefer Kimono Violet — it's a great purple, not too red and not too blue.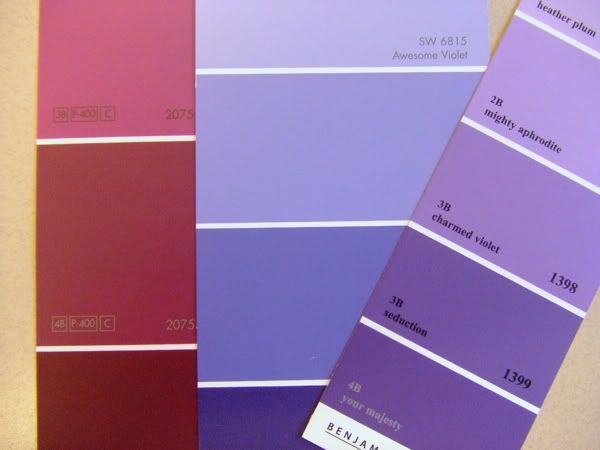 Aside from waiting to see how the berry or merlot bedspread looks, I'm attached to three other colors. The dark horses: Mulberry, Gentian, and Seduction. Mulberry (which is more berry-ish than in the chip — it's the center color in the left-hand chip) is probably too intense, but it's so gorgeous I can't quite let it go. Gentian (on the middle card, second from the bottom) is a darker shade of what's already on the walls, so I'm partial to it even though it's not Moroccan. Nor is it much of a change. And Seduction has amethyst tones that I love. Anyway, I'll be buying paint on Friday, so at least there's a deadline.