I just got back from sunny Virginia Beach, taping a jewelry segment about
Cool Jewels
for
Living the Life
. The trip was a whirlwind, but everyone in Virginia is kind and friendly and professional, which really helped put me at ease. When my phone rang to alert me that the car had arrived, I heard, "It's Buddy from the front desk. Bring your smile!" How could I not be enthusiastic? The trip was filled with many signs like that: Angela, who picked me up from the airport, told me how nice the hosts were. Eddie, a pilot for Southwest, encouraged me to be myself. And Emily, the server at breakfast, also reassured me: "I promise it will go well." Yes, I shared my fears with virtually everyone I encountered.
By the way, if you ever get a chance to stay at the
Founders Inn
, do. The staff is cheerful, the restaurant serves a yummy Kobe beef burger (mine had American cheese and caramelized onions), and the inn is set on a beautiful campus that also houses the CBN studio, a fitness area, tennis courts, a swing set, a spa, and plenty of terrace seating. I didn't partake of all of those, but I did walk a few laps to calm my nerves.
The taping went so fast — one take. I'm hypercritical when it comes to my own performance, so I'm already thinking about what I could've done differently — but I won't spoil it by running through my list. Carolyn and Louise, the hosts for the segment, have so much energy that they just propelled everything forward. They are total pros! The segment didn't go exactly how I expected (as I am not a total pro when it comes to TV), but what in life does?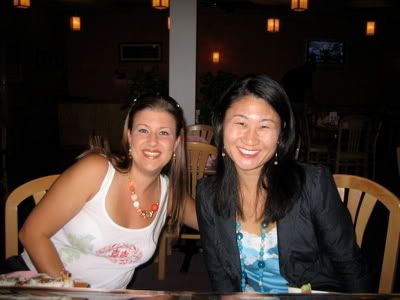 Afterward, I went to dinner with Heather, a fellow Scorpio who taped a segment on timeshares. Over sushi, we talked TV and life and laughed at our need to try to control stuff — even stuff that can't be controlled.
All in all, the trip was a great experience: I met interesting people and faced a professional challenge. Not so bad for just three days.