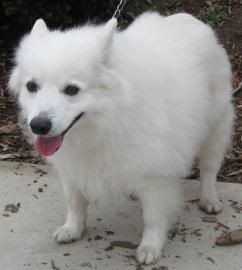 We really miss Papaya.
So my parents and I decided to visit the Orange County Humane Society. There were pit bulls, chihuahuas in sweaters, an energetic dachshund, and lots of barking.
There was also an American Eskimo, a plump seven-year-old named Cubby. Though he came in as a stray, he didn't seem terrified — just mellow. He didn't bark the entire time we were there. Dad thought he'd get along great with Papaya. Or maybe Yukie could keep him.
Alas, when I checked this morning, Cubby was gone.
But I'm glad. Even though I couldn't adopt him, it's reassuring that someone else could easily imagine him as their new friend.