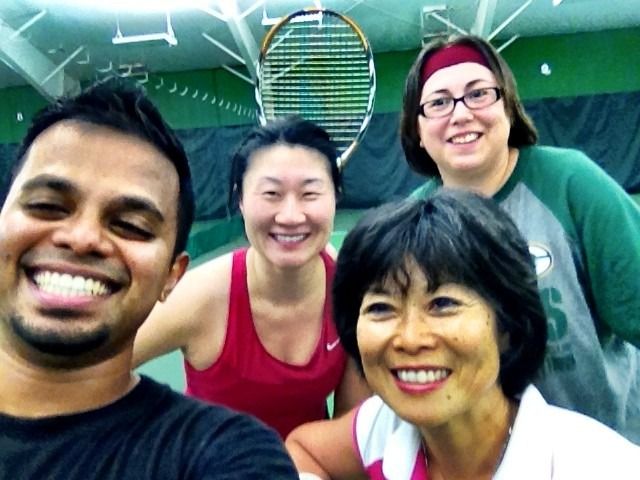 New Year's Eve was fun, relaxing, and — this being a group of tennis players — competitive.
After our spaghetti dinner, we played Taboo. Jody would give concise clues while Scott and Sepp called out lots of answers. Arguably her most brilliant success of the night was "Cop. Snack."
"Doughnuts!"
Meanwhile, Julie stayed focused and gave one-sentence descriptions. "This is the person who..." "Usher!" "This is the person who..." "Conductor!" The guys lamented their tough cards: anatomy, radon, Sputnik. Our team did get a little lucky with pen, rainbow, and Kermit the Frog.
I was excited to watch
Love Actually
, but my movie choice drove Jody and Randy away. A few minutes in, Sepp said he would not be able to stay awake through the whole thing. Oops.
So I sort of watched it while Julie, Scott, Julia, and Sepp played a slow, unorthodox game of Scrabble. There were words that were not words, words that were not connected to anything, the spilling of tiles. Several times. Julie bowed out, leaving a war of attrition among the remaining players.
Then she noticed it was midnight and so we hugged and had an airing of grievances. Actually, we did talk about the ups and downs of the year. Life can't always be awesome — new tires, anyone? — but I can say that this was the perfect New Year's Eve.
So as I sit here with a cup of tea and a piece of regifted yet delicious gingerbread loaf — my "slicy" — I look forward to the new year.
Thank you, Julia, for bringing us all together. I appreciate the carbs, the games, and the blankets. You are a wonderful host.
Happy 2013, my friends!
PS: I don't have pictures from the evening (Scott in the Packer snuggie would have been a classic). This is a recent one from my Wednesday night court. That's one routine I'm happy to keep!