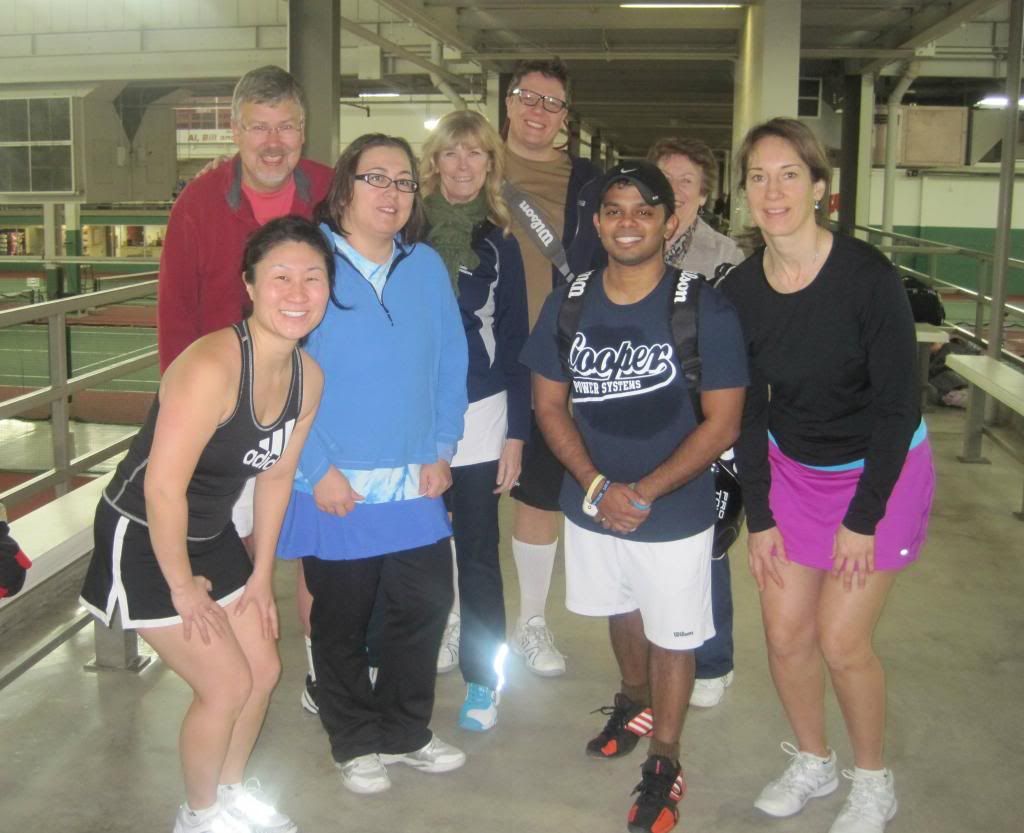 In preparation for Sunday's playoffs in Madison, I carbo loaded at lunch with Patrice on Saturday. That night, I watched a DVD she gave me about the 2012 Ironman. It was so inspirational, seeing how determined the competitors are not only to finish, but to win.
Alas, that is not my story. At least not this time.
Our team's one win came from Adam and Jody, who played beautifully together. It was fun to watch all the setups and great angles. Way to get it done, 6-2, 6-2! (This is even more impressive because NEL took all three courts against the Madison team, losing only three sets the entire day.) Congrats!
Adam and Kelly had played together at #1 doubles earlier, staying tough until the very end: a 10-8 loss in the third-set tiebreaker. What a great effort — and so, so close!
Meanwhile, Terence and Julie were on the court next to us. They also lost a close match, 6-2, 7-5. Terence said they were up 5-4 in the second set. That is always heartbreaking.
Rohit and I lost 6-4, 6-4. Aside from being our first match loss, this one was painful because we were tied until our opponents broke my serve at 4-4. In the second set, we were up 3-1 and then 4-3. Why couldn't we take that second set? Then it was 4-4 and they broke my serve
again
.
Yes, I know that you win some and you lose some. But having been competitive in the first set and up in the second, it's hard to accept a straight-set loss. Ouch.
Terence, who's always comfortable offering his opinion, said we played it too safe. (Carrie pointed out that that's also what he said about himself.) My opinion: that we made just a few too many mistakes at critical times. But Ro also felt like that's the best we've ever played.
I wish I could've seen more of Sepp and Nan's match. I can't believe that dude in the blue shirt was only a 3.5. For real?!
The last match to finish — Scott and Linda — was a nailbiter. After losing the first set, they played to 6-6 in the second. As our entire team stood by the railing, Terence said, "It's all about the mental toughness!" Which could've jinxed them, if you are totally mental and believe in that kind of stuff.
Their opponents edged them out in the tiebreak, 7-5. Again: So close.
As I learned at combo playoffs last year, losing makes me hungry. So we went to the Great Dane, where I had an Old Glory beer to honor the bygone days of Rohit being undefeated in mixed doubles. Then I had a chicken pot pie. Comfort food.
And I started to feel better. Though it wasn't a triumphant day score wise, it's hard to wallow when you're sharing cheese curds and chocolate torte and the guys are daring Ro to try a Habanero Hellfire chicken wing.
Jody, thanks for putting together such a great team. Patrice, thanks for the ginormous lunch and pre-match pep talk. You were right; I was fine. Plus I had a lot of fun, even if I do owe Mike $10. Cheers, Team Cahill Park!