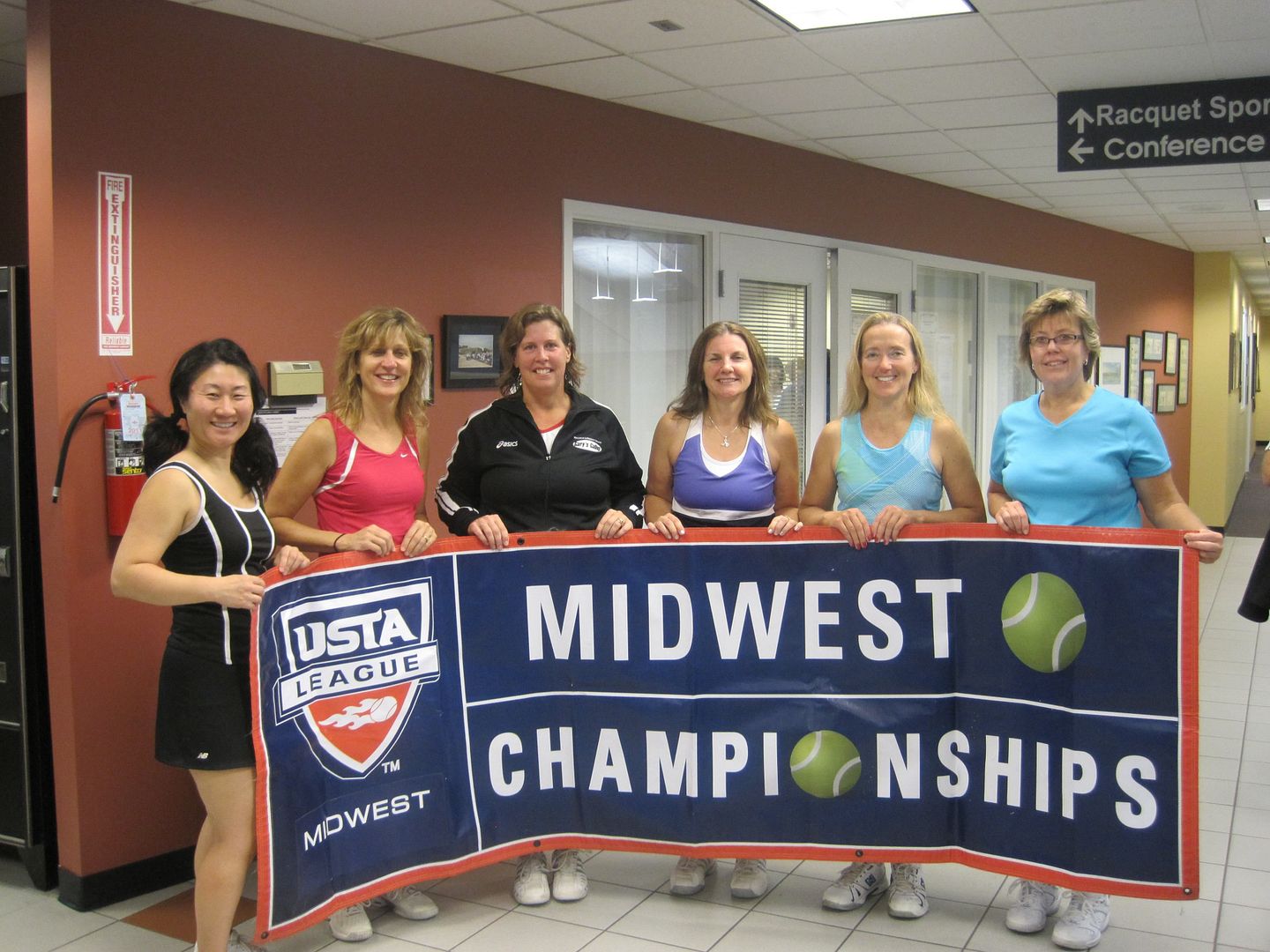 Since our tri team won the
state playoffs
, I've had trouble thinking about anything but sectionals.
I had done everything I could to prepare: A lesson with Tom. Body sculpt and cardio. Practicing against different opponents, including Shappy and two guys in Bob's drill for 3½ hours last Sunday.
Saturday finally arrived.
At 9 a.m. I met up with Patrice and Tim to carpool. We enjoyed non-stressful conversation during the drive, punctuated by Char calling from the other car to ask where we were. An hour and 45 minutes later, we arrived at the Tinley Park Chipotle.
After a leisurely lunch and another phone call from Char ("Where are you? Where is the Dixie exit?"), we arrived at the Homewood-Flossmoor club.
The place was abuzz. Four men's teams were competing at sectionals. For the women, there were only two teams: Wisconsin and Northern Michigan.
Carol said that meant we had a 50% chance of advancing. I saw it as Patrice and me being responsible for 33% of the team's fate.
Both were true.
We checked in. Got t-shirts. Thought about whether to pay to use the courts to warm-up. (Nope.) We listened while a USTA official announced the rules. All of our doubles teams walked onto the courts at 2:00.
I was nervous. And glad to be on the court farthest from the viewing. The 10-minute warmup blew by.
We got out to a quick start, 4-1. They brought it to 4-2, then 4-3. On a critical point, I missed an easy putaway. Ugh! (Really. That's what I said.) So frustrating. But I decided that that was going to be the most emotion I showed during the match.
At some point it was 4-4. Not good.
But we refocused. We didn't do much talking, but we took the set 6-4.
In the next set, we were up 3-0 but down 30-love. We came back to win that game, then the next two.
The server called the score: "15-40. Match point." I've never played against anyone who's done that. What an odd little mental thing. It reminded me of when Jess and I played a tiebreak in a social match and he said, "All the lessons, all the hard work, it all comes down to this." He was joking but we lost.
Match point.
An overhead by Patrice. 6-4, 6-0.
I started crying. Patrice gave me a hug and then we shook hands with our opponents. We stayed on our court a couple of minutes after they left. We usually use the time to talk about the match, to calm down before going back to the socialness of the team. But there wasn't much we needed to say.
Tim was there with high-fives and hugs when we came off the court.
Two courts left.
Mary and Pam E. were playing a nailbiter on the 4.0 court. They split sets and started a super tiebreak.
Tim, Patrice, and I reminded each other of the score after every point. Mary and Pam were up 4-2. And got to 7-4, 8-4, 9-4. We clapped and cheered even though they could not hear us through the glass.
They won. Patrice and I started crying. More hugs from Tim. We tried to quietly congratulate them when they came off the court; our opponents were still around.
From court 1, Char gave us all a thumbs up. She and Pam T. lost a close match — it really looked like they were going to take the second set. They are both tremendous players; this was Pam's
fourth
sectional playoff this year. And none of us would be here without Char!
Thus, my tears. Being on this team has been an amazing experience.
And it's not even over. Nationals will be three days of tennis at Indian Wells. Pack your bags and come cheer us on — won't you want a vacation in mid March?
One last thing: Thanks for all the good-luck emails and phone calls. And for saying, "I think you're going to win." I knew that we could, but it did not feel real until it actually happened.
Now it does. See you on the courts!