Dale and Paul's wedding was beautiful. She looked gorgeous and maintained her composure — as she had all week. And I got misty-eyed only once: as predicted, when she walked down the aisle.
I almost always cry when the bride walks down the aisle. There's something about the magnitude of the event that gets to me. Seeing a friend in a different context at that moment, embarking on a new life. (I can be both a hardened cynic and a hopeless romantic about love, but weddings typically bring out the latter.)
By the way, it is best not to cry in front of Dale unless the situation truly merits it. Worthy situation: a breakup. Unworthy situation: a Bucks game. (At our next Bucks game, Dale said, "You're not gonna cry again, are you?"). Last week she preapproved my crying: "I hope somebody cries for me." A worthy situation.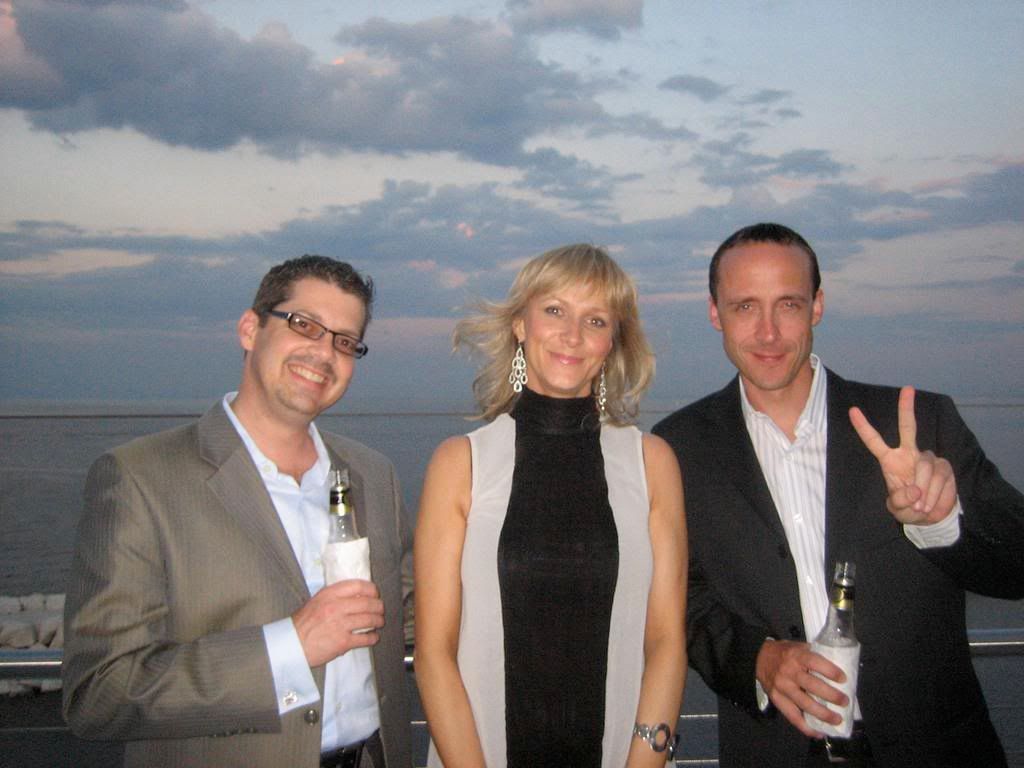 At dinner, we had a fun table. Here are Joe, Simone, and Pat. Joe is married to Shannon, Dale's good friend who handled all the wedding details. And Simone flew in from Ireland for the weekend. She used to live in Milwaukee and looks forward to moving back here. And Pat went to high school with Dale; they were in the same homeroom. There were lots of friends from childhood, college, and the present.
Incidentally, dinner was fantastic (roast chicken and brussels sprouts). Dale doesn't like brussels sprouts, so she had rigatoni. A bride who eats red sauce on her wedding day — so bold, so low maintenance!
After dinner there were more cocktails. And fireworks (from Polish Fest, I think). Then we said goodnight and hopped in the convertible, and Pat played the Outfield ("Josie's on a vacation far away") at deafening volumes as Fest-goers stood on the corner looking puzzled. Good times.