I didn't see the movie, but I tried on at least that many dresses at Forever 21.
(I waited too long to buy a dress for Dale's wedding. It's this Friday.)
A few of the 27: There was the lilac chiffon number that I couldn't quite zip. (And that wasn't available in a large.) The black ruffly dress that fit okay but seemed too somber for a wedding. The blush pouf that showed off my tank-top tan lines from tennis. The green and white print halter style that accentuated my broad shoulders. The black satin miniskirt (size large) that was cute but too clubby.
Forever 21 had tons of dresses, jammed into arrangements that appeared random. Because I haven't been 21 for a while, I had to forego the dresses that were strapless or had bows. And, I don't wear red; the Stanford shade looks too ethnic on me. Even at the eleventh hour, I have my standards.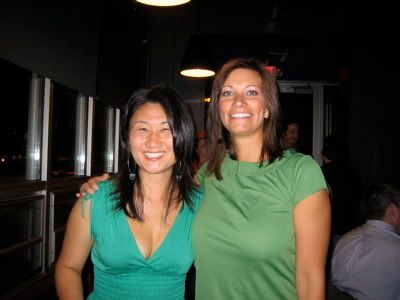 I finally settled on a ruffled silk dress that's the same Celtics green as the one I wore to last year's
Cool Jewels party
. (That's me and Dale in the photo.) I would've preferred the dress in turquoise, but they didn't have it in a medium. So I bought the green one. Which seemed like a reasonable compromise after two hours of effort. Now I just have to figure out the shoe situation. I may do that Thursday.