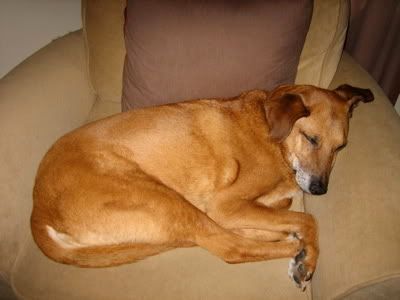 Christmas has special meaning to me because it's when I brought home Ginger, my first dog. Five years ago, the day after Christmas, I was browsing at the
Wisconsin Humane Society
. Ginger (named Tasha, back then) trotted up to the window, looked at me, and cocked her head. (I found out later that some dogs can't really see people, they're mostly seeing the glare from the windows. Still.) She was ten years old and a bigger dog than I had planned on, but she was compelling — affectionate but not needy, with inquisitive eyes and adorable eyebrows. I went home, thought about whether I was ready to get a dog, and made my sister go with me to see her the next morning. Yukie thought Tasha was cute but "not the dog I would pick." We went in and played with Tasha once more, though, and I was sure she was the dog for me.
One of my favorite things about holiday shopping is picking out gifts for Ginger. Some of her crustiest toys are from
Planet Dog
, so their site is usually my first stop. Ginger especially loves their
fleece buddies
and bones. She destroyed her first fleece bone with her enthusiasm.
Because I'm behind on my shopping this year (what with baking mishaps consuming so much of my time), I went to World Market instead, where I picked up a red fleece throw with bones on it. (It's also available in blue.) And since Ginger prefers crunchy, edible gifts over fancy collars or jackets, I also picked up some organic bacon and parsley biscuits. World Market doesn't have many pet products on their site, but the stores always have a well-edited selection.
Another place worth mentioning for pet gifts: Bed Bath and Beyond. Ginger had hours of fun jumping around and playing tug o' war with her
Bite Meez puppet
. Though she is now mildly annoyed by it, it's an ingenious toy, especially for the low-energy pet owner who wants to do right by their dog.
By the way, if you want a reminder of what Gigi looks like when she's awake, check her out in Planet Dog's
photo album
. She and I will be trying to catch up on our sleep over the holidays. We hope your holidays are restful, too.