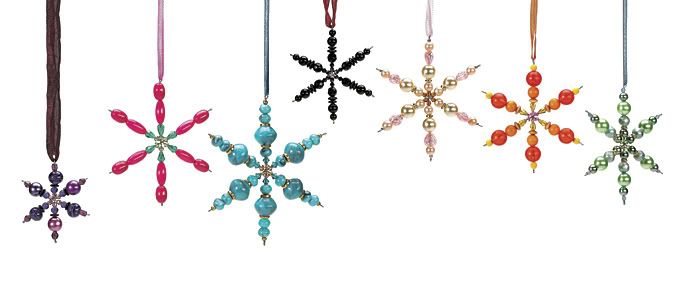 July isn't typically a time to think about holiday ornaments, but "Fabulous Flakes" (page 88) has always been a favorite. I first came up with this idea for the January 2004 issue of
BeadStyle
. When I showed Mindy (the editor) my prototype — a pink, purple, and orange number — she said to just make sure that the colors were ugly. Really, I'm not making this up. She'd say blunt stuff like that all the time. Hilarious!
Snowflakes take just a few minutes. For me, they're far less labor-intensive than necklaces and way more fun and relaxing. I like to make ornaments as gifts, too — last year, I gave a set in different shades of white and ivory. I'm always on the lookout for cheap beads (in groups of six, for each of the spokes). My brainstorming with vintage strands almost always starts with "Can I make an ornament out of this." By the way,
Fusion Beads
carries metal snowflake forms year-round and has free shipping. And
World Market
sells cute holiday tins and paper takeout boxes for pretty packaging. At the magazine, we also do a pizza-and-ornament lunch in December, which I'm already looking forward to.
A minor change I make when I'm putting together ornaments for myself: I prefer the cheap wire hooks (you can get huge packs on sale at Walgreens for 79 cents). The ribbon hanger looks pretty for gift giving but can be a little distracting when the snowflake is actually on the tree.
Happy holidays!