It has been a crazy week.
We're designing for
365 Earrings
— the math of which works out to 90 or so per editor. I just finished designing mine! This afternoon will be spent writing the story.
And recovering from the carb-laden snacks and lunch I've had today. Cathy organized a cake walk to benefit the United Way, and everyone at Team
Bead Style
baked cupcakes. Which also meant that everyone at Team
Bead Style
ATE cupcakes.
Yellow cake with cocoa frosting, carrot and red velvet with cream cheese frosting, and chocolate with white chocolate frosting. All in the past two days.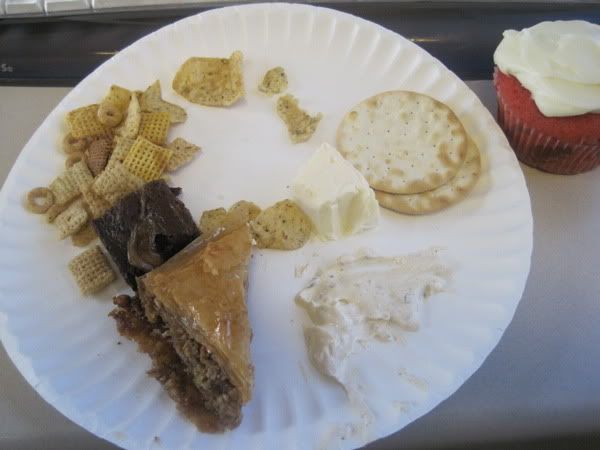 Plus I had a bagel with cream cheese for my morning snack. And this for lunch: crackers and cheese, chips and dip, Chex mix, Helene's homemade baklava, plus a brownie for some color and antioxidants.
All of this carb production is for a good cause, though. I also learned something new this week: I am not good at making chocolate letters. Why did I choose a serif font?! Plus, Keith's birthday is not even until next week.
So this may not be a time of learning new skills, but of simply getting the job done. TGIF....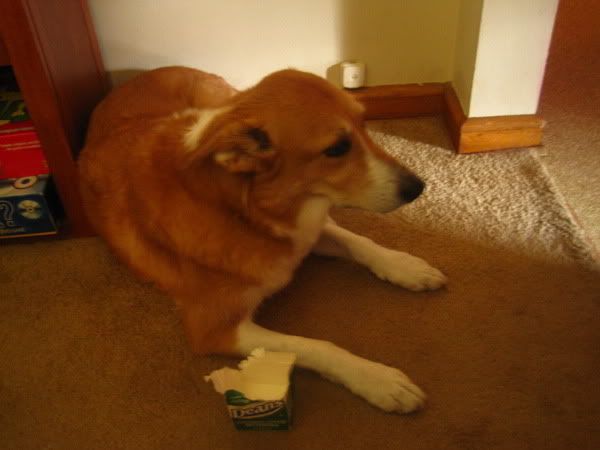 To add to the manic atmosphere, Pops has been acting out lately. She dumped the kitchen garbage and ate a burned blueberry chocolate chip pancake and the top of this carton of buttermilk. Too many carbs for her too?