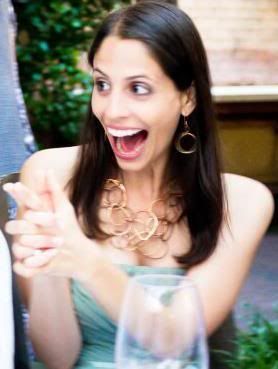 I was thrilled when Jocelyn asked about this copper bib from
my Etsy shop
and offered to send photos for my portfolio.
She already had her dress picked out for her rehearsal dinner, and she wanted a necklace that wasn't too long. This works perfectly: I love the contrast of the copper and the mint green.
She also looks stunning in the pic with Ben on their honeymoon. They both look so happy! I would be, too, if I were in Turkey, Italy, and the Greek Islands.
Jocelyn and Ben live in San Francisco and met five years ago at work. Of course I had to ask about the proposal.
"Last summer we were driving down the 1 on the coast and stopped for a day of hiking in Big Sur. Halfway through the 9-mile hike in a place with an amazing view of the ocean, he read a poem he'd written that chronicled our relationship and ended with the line 'So marry me — just say you will.' And I did."
I'm always touched when I see people wearing my jewelry, especially when it's on a special occasion. So thanks, Jocelyn. I wish you and Ben joy as you walk through life together!