This was a weekend of green.
When Denise and I got to Irish Fest on Friday night for our shift, the marketplace was crowded with people buying sweatshirts, caps, ornaments, and other souvenirs. Although everything sold like hotcakes, the green t-shirts and classic hoodies were especially popular. (I picked up a green shamrock ornament, no surprise there.) Irish Fest is my favorite summer festival because we get to volunteer with kids and retirees and everyone's in a good mood, including the customers. After our retail stint, we usually wander the fairgrounds and eat some shepherd's pie. This year, though, we decided to try something new: reuben rolls and a baked potato with cheddar, sour cream, and bacon bits. I'm not a fan of corned beef, but I can appreciate it when it's deep-fried in an egg-roll wrapper. There's nothing like sharing fried food and good conversation with a friend.
On Saturday, I went to
Planet Bead
to buy gemstones. My no-brainer buy: a $40 strand of gumball-sized round turquoise. The colors in the photo look murky, but the actual strand is mostly green, with a lone blue nugget and three brownish pieces — can't wait to combine the beads with tiny Swarovski crystals in smoked topaz, chrysolite, olivine, and maybe even jonquil or indicolite. I try to avoid metaphors about beads speaking to me, but this strand seemed like an obvious choice, even surrounded by the store's huge selection: round is one of my favorite shapes, and the colors don't require much embellishment. Green is good.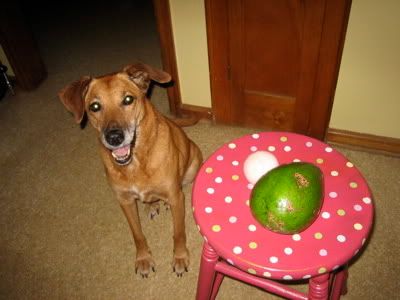 My third brush with greenness: the avocado. It's huge, about the size of Ginger's head. Ginger is a 50-pound dog. That's a tennis ball next to said avocado. (By the way, I think tennis balls should be used to gauge size in photos. Everyone has an intuitive sense of how big a tennis ball is.) This avocado reached me via my neighbors, who went to Florida and procured it from their friend's tree. To make a story out of this, I'll conclude by saying that I used half of the avocado to make guacamole and gave the other half to my parents, who then asked me to make guacamole.
Hope you had a colorful weekend, too.