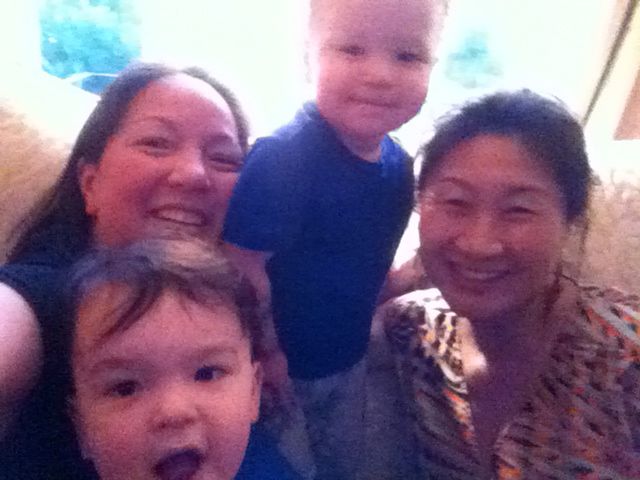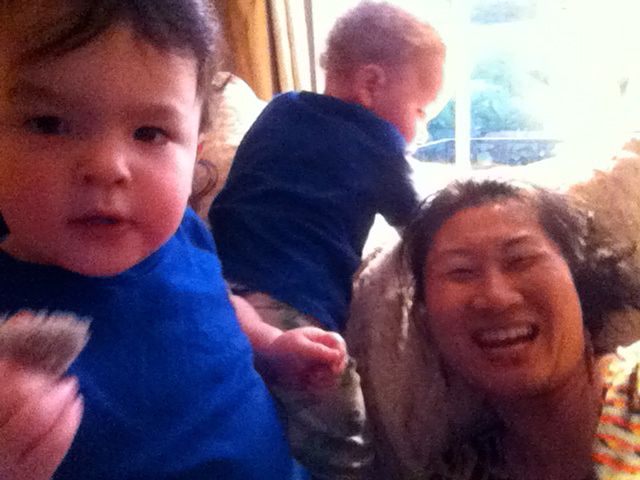 Though Liz and I have been friends for decades, I've gotten to know her family in a slow and piecemeal fashion. (One day I hope to finally meet her husband, Michael!)
While I was in San Francisco, Michael was in Chicago with their daughter, Alexandra,
whom I met two years ago when she was an easygoing, polenta-eating baby
.
This trip, Liz and I hung out at the house with her 2-year-old twins, Hayden and Matthew.
We played with alphabet puzzles and Liz asked, "Who wants dinner?"
"No one," said Hayden, the redheaded joker. He sometimes looks serious, but then he breaks out into a smile.
Over Mexican food and the frequent opening and closing of sippy cups, we caught up about our lives and what our college friends have been up to.
Then there was basketball and t-ball — Matthew has quite the swing and I stood farther away than was probably necessary.
I snapped some photos, but it was surprisingly hard to get everyone in focus. (I miss my digital camera.) The selfies were also challenging: Why does Hayden look like a shadowy photobomber? Why do we all look surprised? Where was Liz in that last shot, and where was Hayden going?
After the photos it was time call it a night. The boys stood at the window and waved goodbye. And stayed there waving after I left. Liz, thanks for telling me; it's nice to hear.
I hope to see all of you — together — soon. Those will be some crazy selfies.