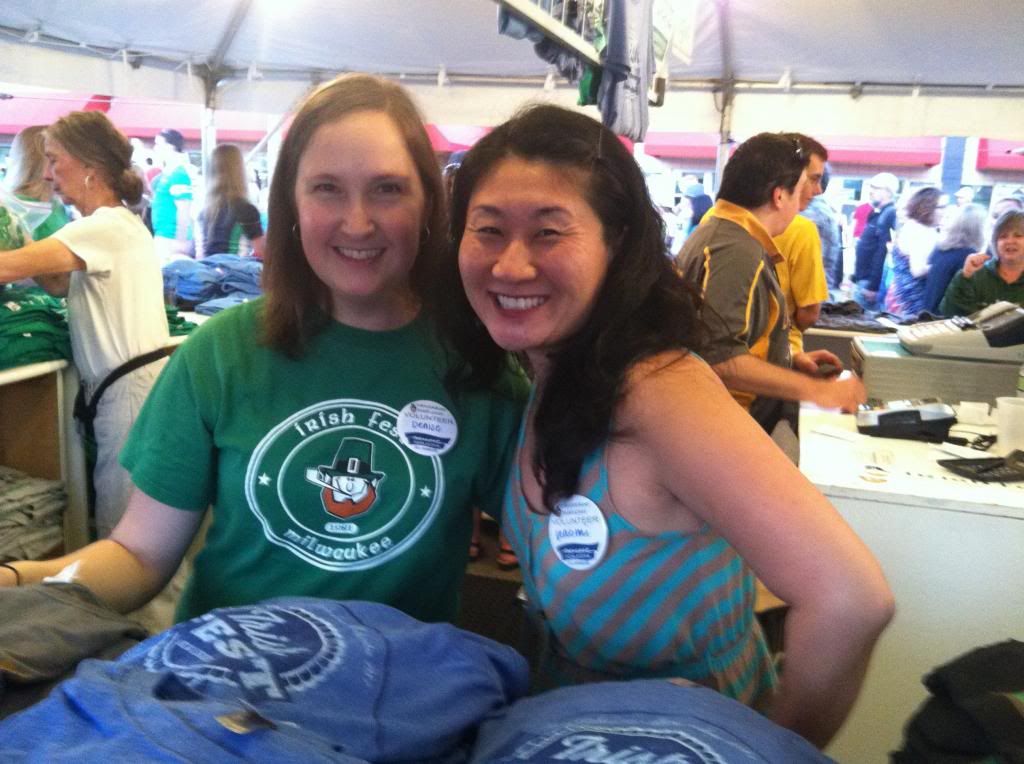 Our Irish Fest adventure started early: Traffic was backed up. Everyone seemed to be arriving at 4 p.m.
"This is a blog post," Denise said as we drove around and were redirected to different parking lots. But the festival gods must have been smiling upon us; we paid five bucks for rock-star parking.
The store was in a new location this year, near the Miller Lite stage. Even though there were plenty of volunteers, it was busy so we jumped right in — Denise by the tchotchkes and me by the long-sleeved shirts.
The weather was unbelievably beautiful, one of those days when you just want to cling to summer, hanging out with your friends and refolding t-shirts warmed by the sun. (Or whatever you like to do on a sunny day.) Everyone who stopped by was in a great mood, even though we were already starting to run out of sizes. I got a chance to meet the fest's winning bakers, a family whose prize was gift certificates to the shop. They won for their molasses bread, scones, and lots of other treats. Yum!
Denise and I were done at 8, so we walked the grounds in search of reuben rolls and shepherd's pie. She had a second Miller Lite. "Why stop at one?" she said, a rare throwing of caution to the wind. (And she stopped at two, by the way.)
We were on the search for some twisted dough with cinnamon, which someone had raved about earlier. A couple times we felt like we were close to the dough, but the delicious cinnamon smell was from the roasted almonds.
It's really okay, though, because Irish Fest is not about trying new things. It's about going back to the same-ish things over and over and appreciating how good they are.